St. Luke's church in Anna Nagar West, which was first opened to the public on October 2, 1977, is now being demolished for reconstruction. The demolishing began on 10th of November 2016. The renovation aims at creating more space inside, as the church gets overcrowded these days. The whole church is now demolished except the blue tower housing the huge bell.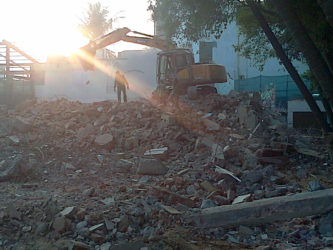 A shed outside of the church is set up for the protection for the statues of Jesus and Mary, that were kept inside the church. They are now has been kept on the repainted compound wall with lights fixed in the shed. The candles are lit on the steel stand placed near the wall where the dolls are placed. Potted plants are also put up along the pathway to give the construction of the church a better look.
The constructors have shifted the prayer hall to Jessie Moses School which is around 15 to 20 houses away from the church. The prayer sessions are conducted between 5:55 am and 6:30 am during weekdays including Saturdays. The sessions are held at 7:30 am and 5:30 pm during Sundays. There is now a board that display 'CHURCH CLOSED FOR CONSTRUCTION' in front of the gate.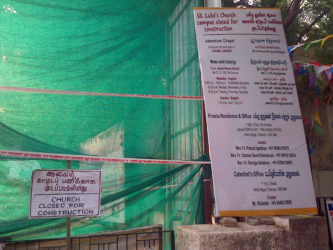 The constructors hope to finish the work by March – April 2017. The residents are expecting the church to turn better than previous one.