Chinmaya Mission organized a Summer Camp during May 4 to 8, 2014 at Coimbatore. Seven Chinmaya Vidyalaya schools form various parts of the country, such as Tarapur, New Delhi, Bokaro, Mumbai, Chennai, Thiruvanandapuram took part in the camp. The students stayed in an ashram near the Chinmaya International School.
The daily routine was to get up at 5:00 a.m and at sharp 6:30 a.m everyone had to assemble at the Satsang hall where Swamini Vimalananda, a famous saint working in the Chinmaya Mission, answered to various questions asked by the active students present there. After the session, breakfast was served at the dining hall.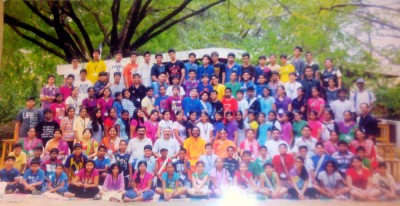 Many adventurous and nerve pulling activities were performed by the students under the guidance of National Adventure Foundation (NAF) team. These activities included Bungee Jumping, Commando net, Burma Bridge, Bamboo walk, Banana boat, Kayaking, Treasure hunt, Flying fox, Rappelling, Rope climbing, Tug of war, Parasailing. The activities were performed from 9:00 a.m to 12:00 noon. It was lunch time at 12.30 and was served in the dining hall. From 2 p.m to 5 p.m the students continued with their activities.
In the evening, the students assembled inside a Ganesha temple, located in the ashram. The students were given the opportunity to perform 'Aarthi' to the Diety. At 7.00 p.m there was another session conducted by Swamini Amma, wherein she tells us Mythological stories and the importance of God, Teachers and Friends. The students also performed the Gayatri Homam. They also had a bonfire where the students sung and danced with lot of joy.