Meet Subhiksha S of class 7, Sri Sankara Senior Secondary School, Adyar, a math wiz kid.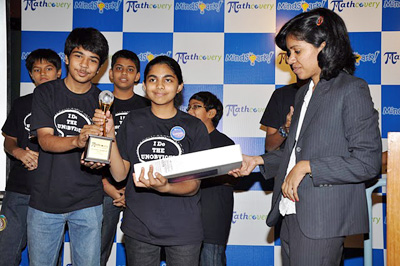 She won the first prize in the juniors category of Mathcovery, a contest powered by Mindspark held recently.
The competition's objective was to bring out concepts of maths in day to day life. The competition was conducted in many schools all over India.  It was announced in the class by the maths teacher that drew Subhiksha to participate in the contest.
For the first level, she had to write a short explanation on how mathematics is used in day to day life. She chose Aviation as her topic. When she passed the first level, she had to meet someone related to the field she chose (Aviation) and had to present a detailed explanation.
She met two pilots from two different airlines in the process. She also had to tell the jury what she would do if she got selected for the third level (whether she was making a 3d/2d model). She got selected for the third level which was the grand finale and went to Allahabad with her parents and sibling.
She spent three days over there. The first two days were spent sightseeing. On the third day, the competition took place. She had to present her model to a panel of judges and talk about it in front of the media.
"I explained how trigonometry , algebra and geometry are used in aviation. Now I can also find out the place the flight is going to land using the direction and the angle it is flying at," says Subhiksha with a pride.
For the first place in the Junior category she won at this contest, she received a Apple Mac book as her prize on Dec. 11, 2010.