The Lady Andal Venkatasubba Rao, Sir Mutha School and the Lady Andal House of Children's Annual Sports Meet was held on July 26, 2013 at the University Union Grounds, Chetput from 3 to 6 p.m.
It was a sunny, some would say hot, day which was a blessing as sports can't go on while cool and heavy water droplets are falling from the sky, can it? In fact, as a precaution, they had even brought in umbrellas, (to be used as props for a drill, they said) but we know the real reason, no matter what – The Show must go on!
The Chief Guest for the day was Siddharth Rao, a top ranking international Snooker player during the eve of his career.
With over a month of hard work put in by the coordinators, the teachers and the students, they eagerly awaited the d-day and it had arrived.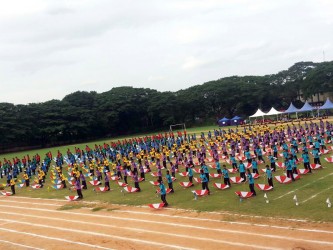 It began with the March past, led by the band (an entourage of students from classes 10, 11 and 12) followed by the six white badge holders, namely, the School pupil leaders, the games captain and the cultural secretary followed by the six houses (Ruby, Emerald, Sapphire, Topaz, Amethyst and Turquoise) with their three captains each – the head Lady Andal, the Sir Mutha one and the Junior Captain, each trying to outshine the other and win the March past trophy.
After that, came the drills. Classes 2 to 5 performed a drill of various acrobatic positions, dance moves and exercises.
Classes 7 to 10 performed a colorful drill with umbrellas.
The highlight of the evening, however was the drill performed by classes 11 and 12 – a characteristic dance off between the boys and the girls. The boys were showcasing their mixed martial arts skills, while the girls were having the time of their lives, showing off their pretty 'Sumba' dance moves.
After all of this, came what all the houses were waiting for- the races- that would decide the winner of this year's sports meet.
The sub- juniors, juniors, seniors and the super seniors ran the distances. With the 75 and 100 metre races taking off, followed by the 4x100m relays, the audience could feel the excitement and anticipation of the students as they cheered on their houses' selected representatives.
It was now time to know the winner. After the shouting and screaming died down, with a nail- biting atmosphere surrounding everyone in the grounds, the results were announced:
Sapphire house won the Discipline Cup, Topaz house topped the Paper Drive. The Inter House Trophy went to the Amethyst House.
March Past: Topaz had another feather to add to their caps. They were declared the best in the March Past.
The overall champions of the year was the Amethyst House
After all, "Gold Medals are not made of Gold, but of hard work, determination and a hard to find alloy called guts!"