On the evening of Monday, October 1, 2012, the first and second year students of Madras Christian College(MCC), Tambaram, assembled at the Elliot's Beach in Besant Nagar. They were all part of the programme to create awareness on coastal pollution.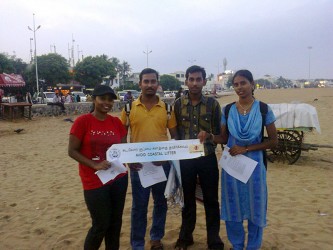 A total of 21 students from the Marine Studies department of the College participated in the awareness drive and were accompanied by two professors, Dr. K. Mahesh Kumar  and Dr. Felicia from the Department of Marine Studies and  Coastal Resource Management.
Dr. K. Mahesh Kumar says that spreading awareness is more important than cleaning the beach as we cannot clean the beach every day. "So, once we spread awareness amongst the vendors, they will do their best to dispose the waste in a proper manner" he adds.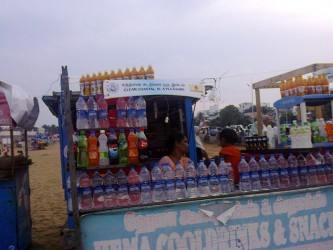 They have collaborated with the Indian Maritime Foundation for this awareness creation. Many such cleaning drives and awareness campaigns are being organised all over Tamil Nadu, he said. Many colleges all over Tamil Nadu are doing this in their respective beaches.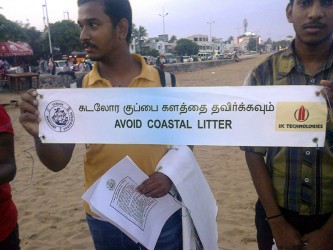 The students of  the college were initiated to clean the beach in the mornings last year. This year, the college has been designated to create awareness.  The clean up drive has been taking place for the past one month. A few other colleges have been cleaning the beaches for the past three Saturdays. The students of the MCC  gave banners to every shop to be displayed at the shop. They also distributed pamphlets to the public.
Dr. Mahesh said that plastics and paper reduce the soil percolation rate and also increases salinity of underground water in the nearby areas. He also says that the slogans created by the students were very interesting and informative.
Dr. Felicia informed that they will be creating awareness in the Marina beach next Saturday.