Chennai, known for its book lending libraries now has something new to offer to kids. This city, where new concepts, new ideas, originality and creativity bloom everyday, has produced yet another one!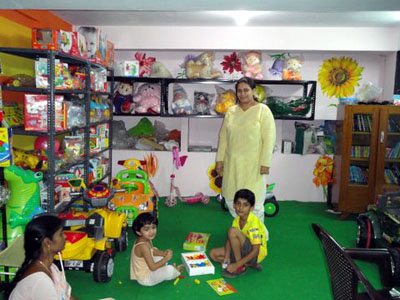 This time, its something for both the Parents and the Kids of the town.
It is a Toy Lending Library. Yes, you did read that right – It is a library lending toys on a weekly basis.
Ms. Ami Shah, who runs this library named it 'The Toy Forest'.
How did she get this idea to rent out toys? Ami says, "Parents face this problem all the time. So, do I. My daughter, Niharika, wishes to play with almost all the toys available in the market, which obviously is not possible. And, that's how I got inspired to open up this library for children aged between 6 months to 10 years."
The members can get a new toy  every week, play, enjoy and return it to take back another toy the next week. This unique library works between 4 p.m. and 8 p.m. from Monday to Saturday. It is open on Sundays too between 10 a.m. and noon.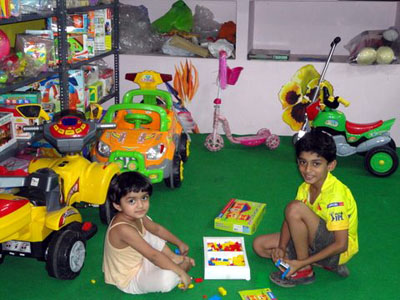 You might be wondering what does she do, when members break toys or damage them accidentally. Well, she has all that covered in a Refundable Deposit she takes at the beginning and returns after adjusting the dues, at the and of one's membership. She has various membership plans, one month being the least to 24 months.
"The library ensures hygienic, qualitative, high-end educational toys to its members," says Ami.
The Toy Forest is situated at the Ground Floor of Shantinath Apartments, 7, Rajamannar Street, near Jeeva Park on G.N. Chetty Road, T. Nagar. For more details contact Mrs. Ami Shah on 97105 94781, 90257 06462 or by email to : thetoyforest@yahoo.in
Saniya joined the Team YOCee as Student Reporter for the year 2007 – 08. She continues to report for YOCee since then.
Saniya is a student of Padma Seshadri Bal Bhavan, Nungambakkam branch. She has a concern for the world around her. Protection of environment and making young people aware of the benefits of green and pollution-free environment is her mission. She writes on her blog – http://aspireblog.wordpress.com/