The security staff at the entrance of Fort St. George became busy on a quiet Sunday morning. On May 18, 2008, kids along with their parents started coming in right from 9.30 am.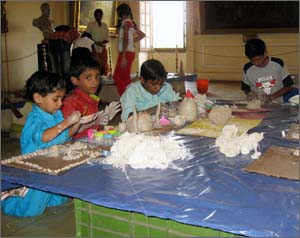 The destination was the Fort museum and the event was a clay modelling competition organised by the museum in connection with International Museum Day.
The huge hall in the portrait section on the first floor was cool though not air-conditioned. The reason was the high roof of the building and the good ventilation.
The theme for the competition was 'Museums as agents of social change and development' Traditional and heritage models came alive in the hands of children.
The moulds, paints and brushes gave the finishing touches to the models. "The clay is the same as that of the professional artists use and the museum provided the material to the participants" said a museum staff.
As many as 55 kids in the age group of 7 to 15 years participated in the contest.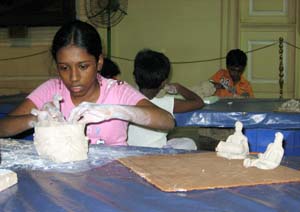 P. S. Nandini of Sivaswamy Kalalaya won the first prize. She created clay models of nadaswaram and tavil players. B. Aravindha, who created reptiles, won the second prize. Dinesh of Hope Foundation (an NGO working with HIV positive children) won the third prize.
You can visit the museum, which houses rich collection of arms, Porcelain collection, numismatics and portrait collection. It is open on all days except Fridays and National Holidays from10 am to 5 pm. Contact phone no.: 2567 1127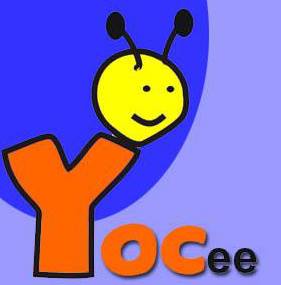 When YOCee's student reporters get busy, the team at YOCee's small office takes up the role of the reporters, does the rounds, writes copies and files reports. The team also posts useful info and ePapers produced in-house.