The transit or passage of a planet across the face of the Sun is a relatively rare occurrence. Tomorrow (June 6, 2012), you will get an opportunity to view this rare event from the early hours to around 10.20 a.m.
Of all the planets the transits of Mercury and Venus only are possible to be seen from Earth. So watching this occurrence is fascinating. So far only seven such occurrences have been recorded in the years 1631, 1639, 1761, 1769, 1874, 1882, 2004. The next one after tomorrow's event will happen only in 2117.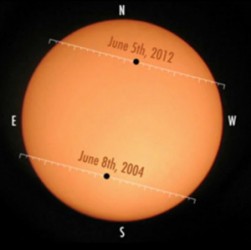 On June 6, 2012, the last lap of the transit of Venus is visible in India. Fortunately, the Sun rising early due to summer, people in Chennai will be able to watch this rare astronomical event from 5.43 a.m. onwards. Of course, the sky should be clear.
Since Venus walks across the Sun and as we know, we should never watch the Sun with naked eyes, it is advisable to view this grand event with professional sky-watchers and with safe equipments.
At Birla Planetarium, Chennai
Arrangements have been made by setting up a telescope in the open inside Birla Planetarium, Gandhi Mandapam Road. Sun glasses will also be provided to the visitors. The scientists at the centre will guide the visitors to watch the celestial event and you can pose questions to them to know more about the event. The event is open to all from 5.45 a.m. Contact 2441 0025
At Elliots Beach, Besant Nagar
Tamil Nadu Astronomical Society (37th Street, 7th Sector, K. K. Nagar), Exnora International and Breakthrough Science Society will jointly conduct a program 'Observe Venus in Transit ' from 5.30 a.m to 10 .30 a.m.  You can view the event through special solar telescopes. For more details, contact  Mr. Vijayakumar in 93828 70662
Online live webcast
Nothing like watching such events on the field through telescopes and with people sharing knowledge. But if you are far away from the places providing such facilities, you can use this link to watch a live webcast put up by National Council of Science Museums, Exploratorium, San Francisco, USA and Indian Institute of Astrophysics, Bangalore.
http://www.ncsm.org.in/Transit%20of%20Venus.aspx
Want to learn more about this rare event before landing up at these places?
Here is a link to the excerpts of the presentation by Dr. S.S.R.Perumal,  Joint Director, B.M. Birla Planetarium, Chennai.
http://www.iiap.res.in/iya09/VPwkshop/talks/Perumal.pdf
>>> YOCee welcomes all your inputs, photos, audios & videos if you are at the event tomorrow. You can mail them to yocee.in@gmail.com