US ship crew initiates cleanup drive in Chennai
Photos by Madan Mohan
There were quite a lot of people around the Madanapuram Lake in Mudichur, in the Chennai suburbs, on a quiet Saturday afternoon. They were there to clean up the lake as part of a program organized by the Environmentalist Foundation of India (EFI) along with the US Consulate, Chennai on April 7, 2012.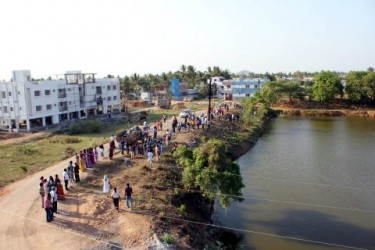 Student volunteers from nine different schools participated. They were soon joined by 42 US sailors belonging to the aircraft carrier USS Carl Vinson, guided missile cruiser USS Bunker Hill, and guided missile destroyer USS Halsey which are all here at Chennai now as part of the annual 'Malabar Program'.
With the cooperation and active participation of the Mudichur residents, the student volunteers and the sailors, the area surrounding the lake was quickly cleansed of all the plastic and non-biodegradable wastes.
Quite a few interesting objects which included an animal skull, and some shells, were also unearthed. The spades and gloves which adorned everyone's busy hands, were sponsored by the US Consulate.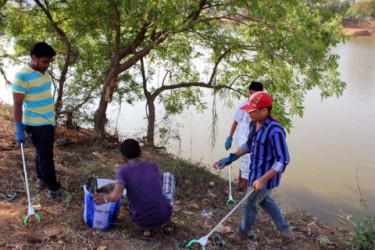 The children enthusiastically interacted with the sailors and asked them about their job in the Navy. The sailors too took part in the project with enthusiasm, and the place was cleaned in no time at all. The Corporation too played its role by bringing a truck to load all the gathered garbage in.
After quite a lot of tiring work, everyone drank tea, and gathered to see a street play performed by Arun Krishnamurthy of the EFI along with students. The street play talked about the importance of protecting our water bodies, and stressed on the harmful effects of bursting crackers, and how it affects various organisms.
The cleanup program was a grand success. EFI is involved in sparrow rehabilitation, paper bag promotion and lake cleanups among other activities. Here is a link to keep track of their activities http://www.facebook.com/pages/Environmentalist-Foundation-of-India/259271880774592
---