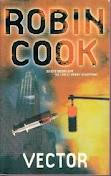 Title : Vector
Author : Robin Cook
Publisher : Pan Books
Price : Rs. 195
One of Robin Cook's  best sellers, the story revolves around a New York Cab driver, a disgruntled Russian immigrant ready to lash out at his adoptive nation which he believes has denied his American dream.
As a former technician in Soviet Union he knows how to cause havoc in his new home.But before he executes his masterpiece of vengeance, he experiments it on select targets.
The sudden & mysterious deaths of a rug dealer Jason Paparis and an obese Afro-american woman Connie due to respiratory disease leaves The forensic pathologist Dr. Jack  Stapleton  puzzled.
When an unexpected coincidence suggests Jack that these seemingly unrelated deaths are actually connected murders, his colleagues and superiors remain skeptical.
Meanwhile he is taking himself deeper into the deadly danger. Can he reach the heart of the puzzle before Davydov and his associates unleash into the streets of New York the ultimate terror?
A modern bio weapon?
An excellent book of fiction dealing with bioterrorism. The author's best selling book after Coma, Mind Bend, Fever & Invasion.