At 5.00 PM on Friday, 15 May, 2015, at Bharat Kalachar, T. P. Road, a group of stage artists were busy in the backstage for their 7.00 PM show- Veera Abimanyu through Kattai Koothu. The workshop had been happening for eleven days, with ten participants and four training staff. The show was only for their family and friends.
Mrs. Hemalatha Swaminathan has been conducting many different workshops over the past years, and has ventured to do a workshop on folk dance, this time. She had learnt and pursued Bharatanatyam since her childhood. The reasons for her organising a workshop on folk dance instead of other activities are her passion for the art of Kattai Koothu, and the fact that she knew the trainers. She suggested that the government has to seriously do something to patronize those few people who still carry forward the art.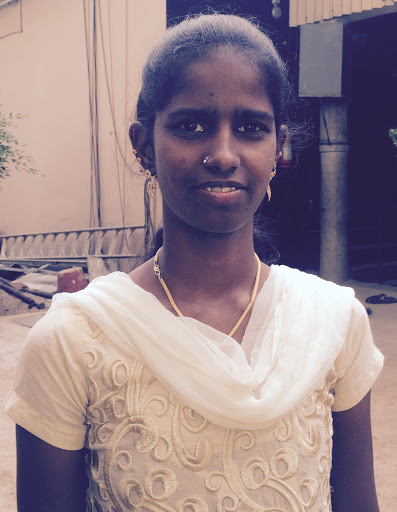 Tamilarasi Shanmugam, the trainer of the troupe in the eleven day workshop, is a 21 year old girl. She started learning Kattai Koothu in Kattaikuttu Gurukulam, Punjarasantangal near Kanchipuram, when she was eight years old. She learnt the art for twelve years under guru P. Rajagopal. Now, she trains younger people in Kattai Koothu. She introduced the three others in the troupe as Greenkumar, Dilli Babu Mageshwaran. "They are also from my school. Mageshwaran is the youngest among all of us here, but still, he is very good at everything," she declared proudly.
Tamilarasi concentrated on steps, songs, and emotions, during the workshop. She explained the difference between Kattai Koothu and Theru Koothu, two old forms of folk dance. In Kattai Koothu, they stand in a given space for hours together, and dance. But, in Theru Koothu, the artists go up and down the street, house by house, while dancing.
Among the participants are Prabhukumar (acting as Sakuni), a B.A. Economics graduate, who is also a stage artist and is part of the Tamil theatre veteran Kathadi Ramamoorthy's troupe . He hails from Thiruvannamalai, and has always been fascinated by the Koothu performances he had seen there as a young boy. Apeksha, a participant in the workshop, is one of the two who haven't had stage experience before. She has done her B.A. Sociology. She shared her thoughts about the workshop being pretty hard for her. "But I had lots of fun," she said at the end. Poornima, aged twenty-five, is a M.Sc. Economics graduate, and works in a graphic workstation. She admitted on having real fun during the workshop sessions. Balaji (acting as Abimanyu) is a B.E. Computer Science graduate, and is currently looking out for an entry into Kollywood.
The artists prepared for the show, changed into their costumes, got their faces painted, and practised all their dialogues before the show was about to begin.
The stories from backstage are voluminous and interesting. They practised hard to put up a good show even if it was for the invited audience. Just as Mrs. Hemalatha suggested, patronising these hard-working artists who preserve the old culture will sure worth be a gold mine!