What if … Online writing contest
FREE DOWNLOADABLE eBOOK of the best entries
WINNERS:

Group 1 (8 – 10 years):
R. Palaniappan, T. Nagar
K.R. Roshni, Anna Nagar
Sanjna Vivek, R.K. Nagar
Charan Aadhith, Anna Nagar West
Sayee Sanjana N, Velachery
Group 2 (11 – 13 years):
Akshaya Murali, Adyar
S. Aditya Narayan, Perambur
Diya Teresa. B, Gopalapuram
Ananya Balaji, Tiruvanmiyur
Khushi Suraj, Adyar
Group 3 (14 – 16 years):
Anirudh Madhavan, Velachery
P.S. Nandini, Mylapore
Rohit K. R, Anna Nagar
B.Yasasweni, Kolapakkam
Shivani Chiranjeevi, Vanagaram
Prizes will be distributed at The Little People's Festival to be held on April 27, 2013.
Event Details (Link to the RSVP page on Facebook)


https://www.facebook.com/events/142209119284229/



__________________________________________________________________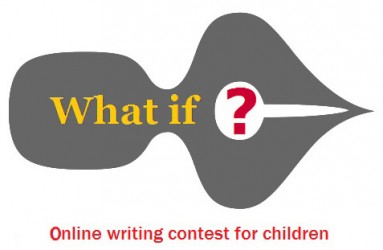 What if you could stay indoors this summer, yet travel around the city and even transport yourself to the moon?
Yes, you can do and tell us about your experience. And win prizes too!
Excited?
Here is a contest for you and your siblings.
Relax and think what if you could do any one of the following, pen it down, rather type it on your computer and hit the 'submit' button.
Theme: 
1. What if you lived in the moon this summer? (For 8 – 10 years)*
2. What if you had a bicycle and two days to roam about in Chennai? (For 11 – 13 years)*
3. What if you were to redesign Chennai city? (For 14 to 16 years)*
*Completed age as on April 1, 2013
The entry should be in maximum of  500 words.
Deadline for submission : April 15, 2013
PRIZES:
Prizes for FIVE best entries from each age group.
Best 10 entries in each group will be published as a eBook and will be made available for download from YOCee.
Submission of entries will be accepted only through the form below. (Will not display after the deadline). No emails and hard copies please!
Rules to follow:
1. The entries must be original unpublished work of the child.
2. Entries submitted should not be under consideration by any other publisher.
3. Only one entry per child will be accepted. In case of multiple entries, the entry submitted first will be taken and the ones submitted later will not qualify for the contest.
4. The judges decision will be final and no dispute will be entertained.
5. YOCee reserves the right of publication online / print of the entries.
Note: There is no entry fee for this contest.
When YOCee's student reporters get busy, the team at YOCee's small office takes up the role of the reporters, does the rounds and files reports.
---