Kamalesh skates and secures medals
S.Kamalesh studying in U.K.G in MCC Campus Matriculation School won two gold medals and the overall championship on the Chief Minister's Open State Roller Skating Championship – 2014 organised and conducted by Tamil Nadu Roller Skating Association at Nehru Stadium from Feb. 14 to 16, 2014.
The competition is held for various age categories starting from below 6 to above 16 years for both boys and girls separately. More than 500  participants from 32 District participated in this competition.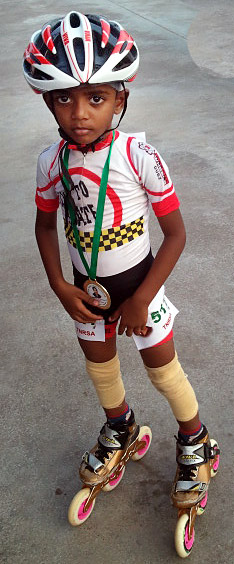 S. Kamalesh participated in the below 6 years Inline boys category representing M.A.V Roller Skating Club, Selaiyur and won two gold medals in Rink IV and Rink V. By securing gold medals in both the events, he also clinched an Individual Championship for below 6 years boys category.
Kamalesh resides in Selaiyur, near Tambaram and is undergoing roller skating practice for the last one year under the direct guidance of trainers Mr. Palanivel and Mr. Ragu of M.A.V Roller Skating Club.
Kamalesh also won gold medals in Club Meets under the same categories of events which were held in M.A.V Roller Skating Club in Sep 2013.
>> Share the news of your awards, prizes and victory with YOCee. Mail news with a  photo to editor@yocee.in
---