A marathon to hold up the nation's pride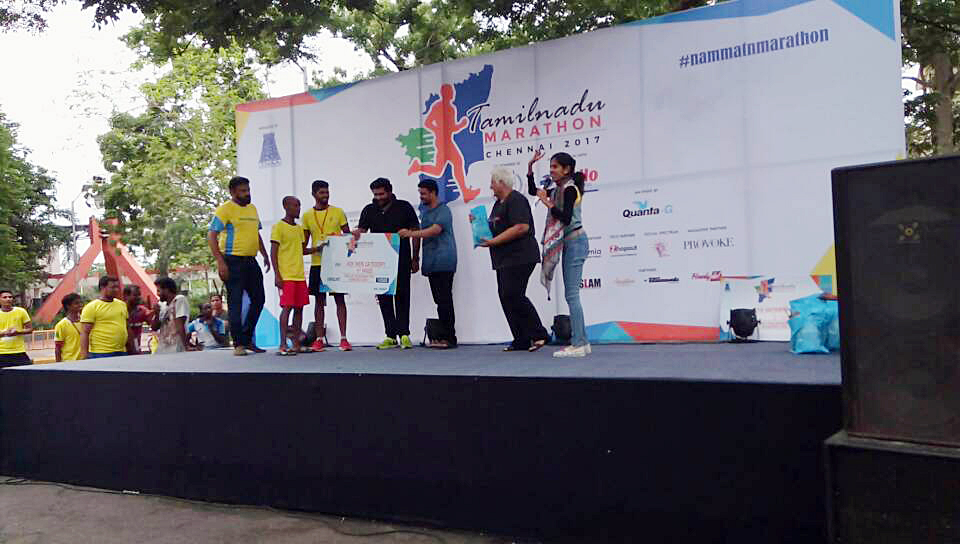 Tamil Nadu Marathon Chennai 2017, First Edition is an inventive event by Tamil Nadu Athletic Association supported by Mr. Walter Devaram and Mr. T.K. Rajendran IPS-DGP of Tamil Nadu in association with SportsPro, a sports magazine. The Marathon was conducted on June 25, 2017 in the Anna University premises. The aim of the event is to promote physical fitness among all age groups and to raise funds for various athletic developments. In this marathon, runners in the age group of 8 to 63 lined up to participate.
The occasion started off with the runners assembling at 3 a.m. in the morning. They began with the first marathon of 42 kilometres at 4.30 a.m. flagged off by Master Jai Aswani, Brand Ambassador of TN Marathon 2017, followed by a 21km half marathon flagged off by R Anitha, MD of Jiffy Sportt and a zumba trainer at 5 a.m, 10 km challenge was flagged off by Dr. C. Sylendra Babu IPS, ADGP at 5.30 a.m., and a 5 km fun run was flagged off by Dr. Amar Prasad Reddy, Cyber security expert and Neerja Malik, Cancer Counsellor and Inspirational speaker at 6 a.m. Sabari and Varsha from SprtsPro co-ordinated the marathon event.
Anitha and her team from Jiffy Sportt and group refreshed and entertained the participants in between with their zumba sessions. Anchor Thamizharasan and Nandhini Aravindan, Founder and Co-Founder of Chennai Event Emcees presented the event very lively.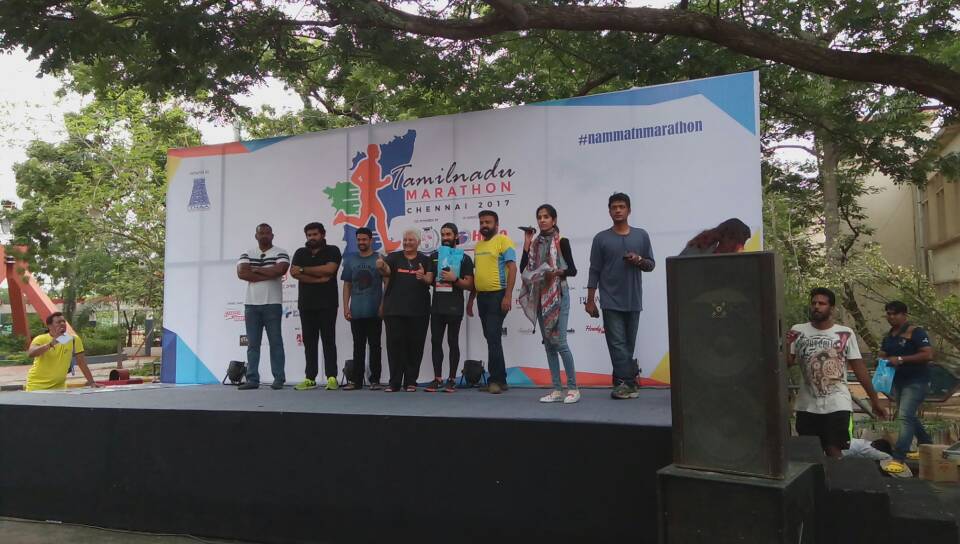 At 8.30 a.m, the prize distribution started. Dr. Ms. Neerja Malik, a conqueror of Cancer, who has stolen the hearts of the people by her courageous act, gave a wonderful start with her whistle and quote, "I Inspire". Dr. Amar Prasad Reddy, Director General, National Cyber Security and Safety Standards continued the fortitude which made everyone understand that they must run for the nation to make India the first and the best. In today's world people run after so many things, Dr. Amar Prasad Reddy raised his opinion on this.
Mr. Abdul Ghani, the green warrior delivered a speech on India's pride saying that in a school in China the following words were written, "If you are obedient in this birth you will have your next birth in India." These words made the participants feel proud about our nation and being an Indian. Actor Dr. Sam Paul, Director of Paulsons group gave an encouraging speech to the participants. The winners were awarded cash prize by the chief guests.
The 63-year-old veteran Mr. Kannan said that it was his 49th half marathon. He runs to keep himself fit and healthy, he says. Dr. Giridharan, a diabetologist insists that people should run to keep themselves free from diabetics. "Not only youth but everyone has to run for the nation facing and overcoming all the hurdles of life," he says.
---