Shadows come to light
For the 20 students of class 9 from A.M.M. Matric School, Kotturpuram a week with the shadow puppetry expert Brigitte Revelli was more fun than a learning session.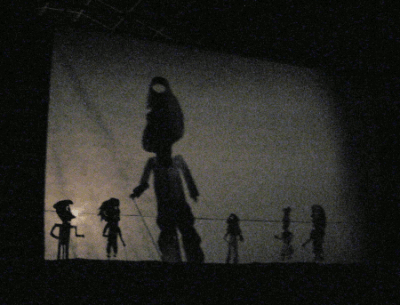 All the students who attended a five-day workshop on shadow puppetry have taken French as their second language at the school.
The workshop culminated into a shadow theatre show at the Alliance Francaise of  Madras auditorium on July 12,  2008 at 6.30 p.m.
This programme was a novel experience for the students. They had put their heart and soul into it and the show, no doubt, was grand. They presented four stories on the day.  The first three stories were about team-work and co-ordination, which forms the basis for all our activities.
The last one was the main story, which imparted a beautiful lesson as to how each and every creature, small to gigantic has a role to play in this world of ours. The students brought this out with the use of puppetry, which is a very old form of art.
A white screen and puppets made out of X-ray films with connected limbs made from wire and elastic were all that they used. The children made the puppets themselves with a little help from the teachers and the themes originated from the students themselves during the workshop.
Increasing and decreasing the size of the shadow on the screen was achieved by moving the puppets closer or farther away from the screen respectively.
When the show was over and the performing students were ready to face the open houses, minute points like there was no water for the fish in the shadow emanated from students of other schools in the audience. It was another session of learning for those who made the puppets speak through their dialogues.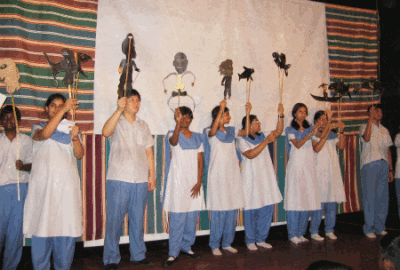 Brigitte Revelli, who guided the children through the programme, is a French artist living in India for the past 15 years and has staged many puppet shows. She combines her background in contemporary dance with Kathakali, the traditional dance form of Kerala and scripture to create new forms of puppetry.
The students of A.M.M school went through a puppetry workshop from July 7 to 11. "Though we had to work really hard for 3 hours a day after school, it was a beautiful experience and we loved what we did", says an excited Akshaya at the end of the show.
Another student, Sneha says -" It was fun learning a completely new art and also lots of other things like team-work and co-ordination." Their French teacher, Ms.Haema Knight was a guiding force.
Hats off to the students of A.M.M for such a bold and creative initiative for it is not so easy to tread into the land of the unknown.
---