Walking down to shoot the neighbourhood
For the kids of Navabharath Matriculation School in T. Nagar, who attended the photography workshop, the summer vacation has been quite thrilling.

With most of the kids from the area close to the school, the kids start their day at 8 am on three days of the week. After a briefing session in the school, the team leaves for a shoot.
With a 'use and throw' camera, an eye for interesting scene and a lot of ideas, the team enjoys capturing their neighbourhood in pictures.
A lady who makes dosas on the road, a barbershop, a roadside snack seller, a small kid given a bath, are all subjects for the kids to shoot.
The lady who sells flowers recognises them and says that they have already photographed her. Then they move on to their next catch!
Yes, the kids attended a photography workshop conducted by Lorren Durret, a French student interning at The Alliance Francaise, Chennai along with support form the Aseema Trust and The Hindu Young World.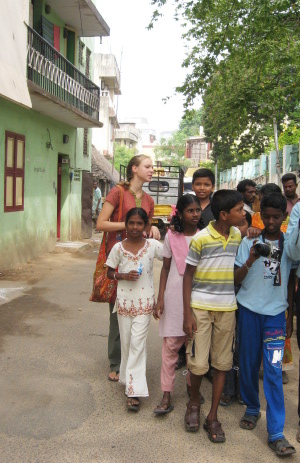 The kids first shot inside the school striking poses for each other duringthe first week of the workshop. Then they went out to do stories through pictures.
The girls' team with K. Gayathri, M. Suganya, K. Leelavathi and A.Ashwini shot all in a day's work from waking up in the morning.
The boys' team of G. Kishore, R. Gouthamraj,  A. Praveen Kumar, C. Suresh and M. Vignesh took over the after-school session to shoot.
When they look at the prints later, the kids say "Wow!"
Not only the kids and Lorene, but the neighbourhood is also equally excited about the project. They mingle with kids, strike poses, sometimes suggest them subjects. A flower seller woman wanted to see Lorene in Indian style and offered her flowers and bindi!
The kids got their pricey catch!
After four weeks of training the kids now have an idea about how a camera works and also explore with it the representation of their daily life and environment.
At the end of the workshop, on June 20, the pictures will be at display at Navabharath Matriculation School, T. Nagar. And again from July 12 to 31 at the Alliance Francaise, Nungambakkam.
Navabharath Matriculation School is at 14 A, Solaippa Naicken Street, T Nagar.
---
---