May is the month meant for going on trips with my family, eating ice-creams and of course summer shopping (or should I say window-shopping?) Unfortunately, just like last year, these things were not on my "to-do during May" agenda. So, what did I do? Here's a glimpse into what a typical week was like to me during this summer vacation.
Coaching classes
I am a person who had never gone for any tuitions. Ever. I used to manage just fine by paying attention to whatever was taught in school. But last year, physics tested my patience too much. And that's how for the first time in my life, I ended up enrolling for a physics coaching class. I spent most of my summer vacation pouring over the physics materials and attempting tests conducted by the institution. It's definitely not a fun way to spend time.
School work
No matter whether school functions offline or online, we are destined to have loads of holiday homework. And the fact that I have just entered 12th grade doesn't help my case. Obviously, we were swamped with assignments and projects. Oh, it gets even better! We are to write exams as soon as the school reopens! Sweet, right?
Time to relax!
Ha! This is my favourite part of the day. Just chilling out. This is the time where I indulge myself in spending quality time with my family. This includes an hour of watching television together and also playing card games. I also use up this time to listen to music and to read e-books
Writing for YOCee
Writing has always been a passion of mine. And I'm proud to say that I spent a decent amount of time working on my passion this year. Writing to the daily prompts given by YOCee helped me to improve my style of writing and also made me think of topics that haven't crossed my mind. In a way, writing for this write track was a stress-buster for me.
Dance class
One of my many hobbies includes dancing. Not the western dance but our very own Bharatanatyam. As I have entered my final year of schooling, I know that there is a good chance that I wouldn't have much time to focus much on anything else except my studies. So, I decided to make good use of this vacation by attending my dance classes regularly even though it's now online.
Spending time with Mother Nature
I try my best to go up to our terrace every day just to feel the sun on my face and to experience the cool breeze that would occasionally pay a visit. I love observing the different patterns the clouds form in the sky each day. Listening to birds chirping while enjoying the sunset is my version of heaven these days.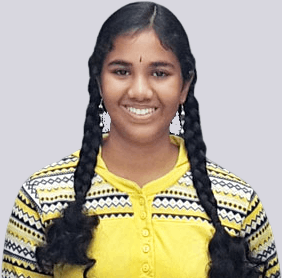 Sanjitha, 16, loves to read novels, write, paint, sing, dance and play the guitar. She is an animal lover and admirer of nature and music.