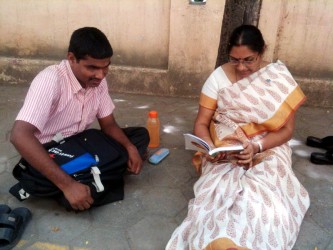 Padmavathy Anand, a homemaker turned social worker is actively championing the cause for the visually challenged people. She is a scribe (Reader / Tutor) for the visually challenged children, aged 6-18 years.
Every Sunday, from 10 a.m to 1 p.m. is the time she has carved out of her regular schedule. The students assemble at a local college near Arumbakkam, where Padmavathy with fellow scribes guide the students by reading out (or writing) passages in English and Tamil.
She is very happy to note that today's youngsters are very enthusiastic in doing social service and said that this a good sign.
Besides being a scribe, she actively participates in other community activities such as helping senior citizens by counseling, arranging donations for underprivileged people, conducting social awareness camps etc. She is attached to the Prerana Helpline Foundation and Lions Club for Chennai Golden Roses.
As the proverb goes, "Service to mankind is Service to God" and we have inspiring role model in Mrs. Padmavathy.
Those interested in volunteering as scribes can contact Padmavathy on 9444287463.