For those who know to work on computers, online security has always been a concern. A young team of students took this as a project for a competition that is conducted by Oracle Corporation, USA and a prize for themselves besides winning many things for their colleges apart from many laurels.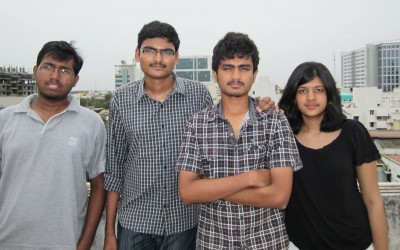 Oracle Corporation, USA operates an educational foundation, Oracle Education Foundation.  This foundation conducts an annual competition named Think Quest.  This competition attracts more than 5000 teams from over 100 countries every year. It is held in  three categories for different age groups – Think quest Project, Digital Media and  Application Development.
The results  of this year's competition were announced in July. A team of youg people from Chennai comprising S.  Manikantan (I year CSE, NSIT student, Salem), Varun R. Sekar (I year EEE, NIT student, Trichy) S. Rajeswar (I year ECE, SSN college of Engg) and Varuna Venkatesh (Freshman, Computer Science, University of Manchester, Britain) created a website  – http://seqr.in – to "educate users about existence of Cyber threats and teach how to stay safe from computer virus" –  which fetch them the first prize in the competition under the Digital media category for the Under 19 years age group. All the team members will get to visit the Oracle headquarters in San Francisco, USA and a laptop for each of them.
Manikantan, captain of the team says, "The combination of determination & perseverance was the key  for their success".
Varuna who came from Britain mentioned that they had an opportunity to learn new concepts as well as programming languages.
With cheer, the whole team said that they faced many obstacles, but they enjoyed them instead of being scared of those obstacles and finally succeeded.  They shared their secret formula for their success –  "Team work, dedication, complete focus on the work and never give-up attitude".
With joy they expressed that they had the opportunity to meet people from Microsoft and CISCO to collect data from their employees.
The competition is held in three age groups – Under 19, Under 16 and Under 12.
Do you think you too have an idea to work on with a commitment? Then the website to refer to is www.thinkquest.org