The Sports Day of Sri Sankara Senior Secondary School was held at Sri Sankara School, Thiruvanmiyur on the 1st of September, 2012 from 9.00 a.m. onwards.  Students of class VI to XII participated in the events held.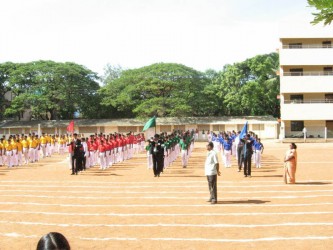 The Sports Day began with a march past led by the NCC Cadets of classes VIII and IX. The Cadets were followed by the Sports Secretary, Sneha Sreeram, who was followed by the 4 houses – Red, Blue, Green and Yellow who were led by their Captains and Vice-Captains. The Vice-Principal presented the Welcome address then. The Captains of each house took oath. Then, the Sports Day torch was carried around by two students from each house after which they lit the Sports Day Fire using it. The Principal then hoisted the Sports Day flag and the events began.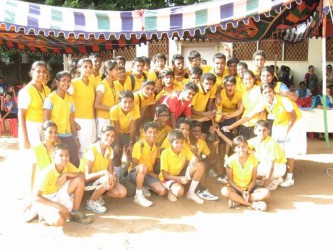 The events started with a 1500 metres race. All the competitions were held separately for boys and girls and the students were also separated as Juniors, Sub-Juniors and Seniors. Various others sports events such as Shot-put, Long Jump, and races of 100m, 200m, and 400m followed. Then it was time for a 4x100m relay race. The winners proudly took their place on the Victory stand and received Golden – Cups for bagging the first three places.
The Yellow house bagged the first place, followed by Red house in the second place, with Blue house in the third place and Green house in the last place. The House Cup was awarded. The Green house won the prize for the Best March Past. The School Pupil Leader, Swetha, gave the Vote of Thanks and the Sports Day ended with the National Anthem sung by all those present on the occasion.