Six hyenas stare at you with questioning eyes. On another wall, a huge lion proudly displays it tousled hair. These are just two of the photographs by Dr. P. Srinivasan, displayed at the Lalit Kala Academy, Greams Road from May 1 to 6, 2012, as part of an exhibition of photographs from the wild titled "It's their world."
Shot at Kenya, Tanzania, Antarctica, Jim Corbett National Park, Bandhavgarh National Park, and the Himalayas, between the years 2007 and 2012, the photographs on display create vivid scenes of animals in their natural backgrounds.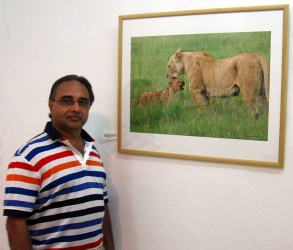 After a tour of the gallery, we talk to Dr. Srinivasan about his photography. Being a doctor by profession, how does he manage to find time for photography?
"Saying one does not have time can never be considered an excuse. Time is there for anything" he says.
Talking about the animals in his photographs, he says he just wanted to show what they do and how they behave. Armed with his Nikon D3S, with a 600 mm lens, he stays at one location for about 8 days. "On the first day, I take some time to look around and get to know the location and lightings" he adds. Among the varied landscapes that he has traveled to, he likes the Serengeti National Park in Tanzania best.
With as long as eight days in the wild, each of his trips definitely needs a lot of preparation.
"I need to choose the season of the year accordingly, keeping rains in mind. The location is also important. If I want to capture a zebra crossing, I would have to choose some place near a river" he says. On display was a photograph of two zebras grazing against a huge rising full moon, with the last rays of the setting sun on their faces. "For that particular picture I had to time my trip in accordance with the lunar cycle".
Incidentally he finds hyenas to be the most interesting creatures to photograph. "Well, they are the cleanest to capture, and they are very curious" he says. A small note next to the picture of six hyenas intently gazing at the camera, which mentioned hyenas turning around even at a mild click of a camera, proves his point.
His most favorite photograph though, is that of a lioness and its cub, captured in a tender moment. The zebras and the full moon qualify to be his second most favorite, while his first shot of a tiger, at Bandhavgarh, follows next. Each time he hears the satisfactory click of his camera, following a perfect moment, he feels "very happy".
His picture of a green bee-eater shot at the ECR, won him the first prize in a National level Photography Contest three years back. Shot with the golden sunlight streaming through the birds feathers, the photograph indeed manages to enrapture viewers. Knowing the green bee-eaters' tendency to fly towards the setting sun, Dr. Srinivasan planned the picture in such a way that the bird would be illuminated in the sun's glow.
Another picture that managed to bring smiles on to viewers' faces was that of a kite excreting in mid-flight. Meanwhile, a picture of a cute little kitten had a note next to it with an interesting tale. While checking his new lens at his home, Dr. Srinivasan noticed this little kitten peering out of a bandicoot's hole. And flash! Here was the photo! The note conveys an important lesson in photography- "One needs to be in the right place at the right time to get the perfect picture"
The unusual selection of canvas to print his photographs on, for display, aroused our curiosity, for which he replied that the photographs where printed on archival media.  "It has a life-span of over 99 years" he adds.
The proceeds from the sales of these photographs will go to Jeevan Blood Bank and Research Center, co-founded by Dr. Srinivasan and Saranya Narayanan. It will be used for enabling quick and affordable access to matching stem cells derived from the blood remaining in umbilical cords after childbirth, and the creation of an inventory of 30,000 stem cell units, to treat blood cancers and Thalasemia, especially in Indian children and young adults.
In all, it was a visual treat with a noble purpose. A chance to help humans through animals.
>>> A gallery of photographs by Dr. Srnivasan is here – http://www.natureimages.in/