Did you ever know why the Pravasi Bharatiya Divas is celebrated in India every year on the 9th of January? Well, this was one among the G.K. questions put forth to the high school students who took part in the quiz competition conducted by the Coast Guard Regional Headquarters (East) & Coast Guard Wives Welfare Association (CGWWA)(East)) on 4th February, 2012 onboard coast guard vessel 'Sagar.'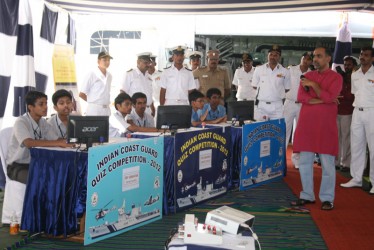 Actually the Pravasi Bharatiya Divas is celebrated on 9th January, a day to commemorate the contributions made by over-seas Indians is because it was the day when Gandhiji had returned from South Africa back to India in 1915. But getting it right was not the priority in the quiz as it was a wholesome learning package.
The aim of this quiz contest is to create awareness amongst the school- going children on duties and responsibilities of Indian Coast Guard (ICG) which is entrusted with the gigantic task of safeguarding the extensive coastlines as well as the adjacent waters of the Indian peninsula and motivating the youths to join coast guard services.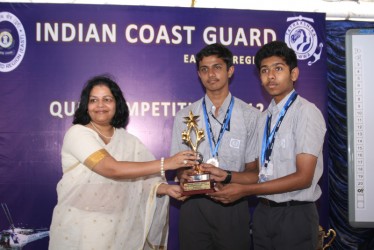 The quiz was conducted by V.V.Ramanan, the renowned quiz master of The Hindu Young World Quiz. The quiz was titled as 'Mera Bharat Mahan', meaning 'My India is great 'and  had questions based on various events related to India and it also tested basic Cost Guard guidelines.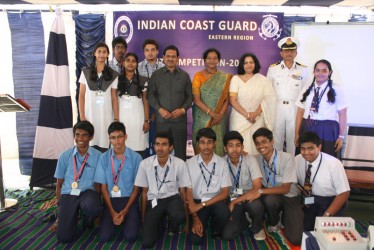 Almost 35 schools around the city with 70 participants ranging from class VIII to XI had registered and actively participated in the quiz with full zeal and enthusiasm.
First were the written preliminary elimination rounds after which six teams were selected for challenging final rounds. After the preliminary rounds, all the participants along with their escorts were taken for a guided tour around the vessel 'Sagar' which many parents and teachers remarked as very useful and informative.
R. Adithya and T.S.Gokul of SBOA School and Junior College, Anna Nagar walked out s proud winners with a grand total of 259. Following them were Sri Sankara Senior Secondary School, Adyar and receiving the runners spot with 69 and closely behind them was Velankanni Higher Secondary School, Ashok Nagar on the score sheet to secure the second runners place.
One of the participants, R. Archita who took part in the preliminary rounds remarked with utmost good humour that, "Firstly the entire quiz was very informative and taught us more tips on efficient quizzing. Secondly, the well organized guided tour around the ship too was amazing. We are upset that we couldn't make it up to the finals but still we shall put in more preparation and hard work for next year and we shall rock."
The proud winners were awarded with trophy & gift hampers by the chief guest, Mannar Jawahar, Vice Chancellor, Anna University. Ila Sharma, President Tat Rakshika (East), was also among the dignitaries on the dais and presented medals and trophies to the champions.