Reported by Adithya H
The car festival of Sri Parthasarathy temple was held at Triplicane on May 7, 2007 near the lord. This festival is celebrated every year.
The pujas commenced early at 6 am.. There were thousands of visitors for this festival.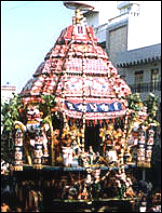 The chariot was pulled by hundred to two hundred people. A few people including the temple priests were there inside the chariot.
The chariot was decorated beautifully. Four lions and two Dwarapalakas (Nala Kuvera and Mani Giri Vas) could also be seen on the chariot. Small hand made chariots having idols of Gods were carried by small children living in that area.
Many people, who were walking alongside the chariot chanted the Vedas and other slokas (Nalayira Divya Prabandham). People residing in the area decorated the ground with big beautiful rangolis. Salt and pepper were offered on the ground when the chariot moved on the road.
The chariot went around the Parthasarathy temple passing streets South Mada street, T.P. Koil street (Gangai konda Mandapam where pooja with fruits and flowers was performed to the Lord. Dry Fruits was then distributed to the priests.), Singrachari street and car street.
The chariot finally arrived at its place. People were given chance to worship the Lord with the help of steps available.
The car festival celebrated in Parthasarathy temple every year is a wonderful experience.