Indian Air Force celebrates Platinum Jubilee this year. As part of the celebrations, the Air Force organised an air show on April 22, 2007 for the general public at the Marina Beach.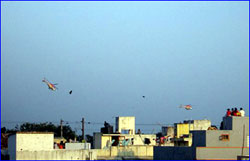 The pilots showed their abilities in handling planes and helicopters.
The show started at 5 pm. There were various items, which included planes (emitting colours) flown upside down and parachutes bearing the Air Force flag.
The most interesting item was the heart shape made by the planes out of the colours they emitted.
However, the most appreciative effort of the teams was the planes not colliding with each other inspite of moving at a high speed and going very close to each other. Then the helicopter pilots put on their performance.
Various kinds of fighter planes took part in the show – the Jaguars, Deepaks and Surya Kirans. There was a loud applause from the audience as the Saarang team of helicopters moved in different directions.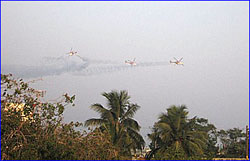 People gathered in large numbers to watch the show. Those who live in areas close by the Marina Beach, like Triplicane, watched the show from their terraces.
The show ended with the parachute divers showing their skills at diving from a great distance above. It was the show of the Akash Ganga team who did the para jumping
Some of them had the Air Force flag attached to their parachutes. Sometimes two or three parachutes moved very near to each other.
They finally landed on the Marina Beach safely. This was a wonderful experience and the performance was fantastic.