In this cold rainy months of december people still brave to go out due to the Margazhi Season.One could see crowds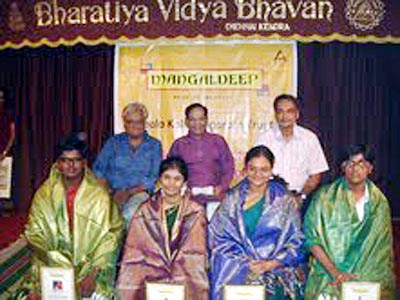 hovering in all the sabhas.The spirit of Margazhi is spread all over the city.While most of the students seem to be enjoying their holidays,some of  them like Dharini are busy doing their Kutcheris.
The Second Margazhi Music Festival organised  by the Bala Kala Sagaram Trust & sponsored by Mangaldeep Agarbatis was from December 15 to December 21 featuring Apaswaram Issai Mazhalai.It was held at Bharatiya Vidhya Bhavan – Mini Hall.It was inaugurated by Dr.M. Balamuralikrishna.  The Bala Kala Rathna Title was conferred to Dharini (vocal),K.P.Nandhini (Violin),Harish Kumar (Mridangam) and Chandrasekara Sharma (Ghatam).The concerts by children were held from 15th December to the 21st December.
Apaswaram Ramjhi's Issai Mazhalai is located at 14,Arundale Beach Road,Kalakshetra Colony, Chennai. Phone:24910501, 24915753.