YOCee, a website for children, launched its third edition of its 'Chennai Kids' Directory on April 29, 2012 .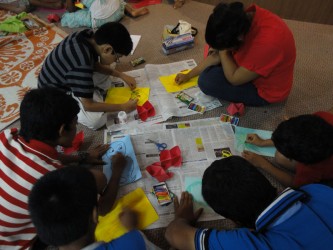 It was held at ARKAY Convention Centre, located in Mylapore.
It was an interactive meeting as they had organised a puppetry making session where the children learnt to make puppets with paper.
Dr.R. Bhanumathi, the managing trustee of PAVAI, Centre of Puppetry led this workshop.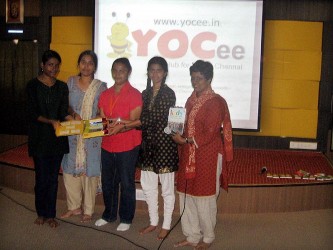 The puppets were made on the theme Biodiversity of Fauna in Chennai'. Children made various kinds of vibrant coloured puppets ranging from star fishes to coconut trees, from birds to sharks.
The puppets consisted of three parts- the head, the mouth and the rest of the body. The mouth was made in the manner of one of the popular paper games, Four Cups.
After the workshop got over, it was time for the launch of the directory. P.S. Nandini, one of the student reporters of YOCee briefed on the formation and the activities of the website with a power point presentation.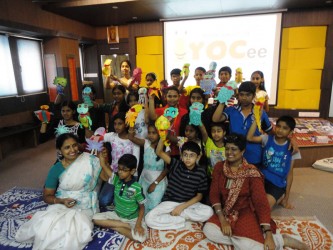 A video news report done by another student reporter, Sanjana Patnaik was also shown at the event.
The directory was then launched by four student reporters of YOCee – S. Sruti, P.S. Nandini, Sanjana Patnaik and S. Smruthi and Dr. Bhanumathi received the first copy of the book. The directory contains listings of resource places for children in Chennai. For copies contact YOCee office.