Chennai Open – a treat for the city's tennis fans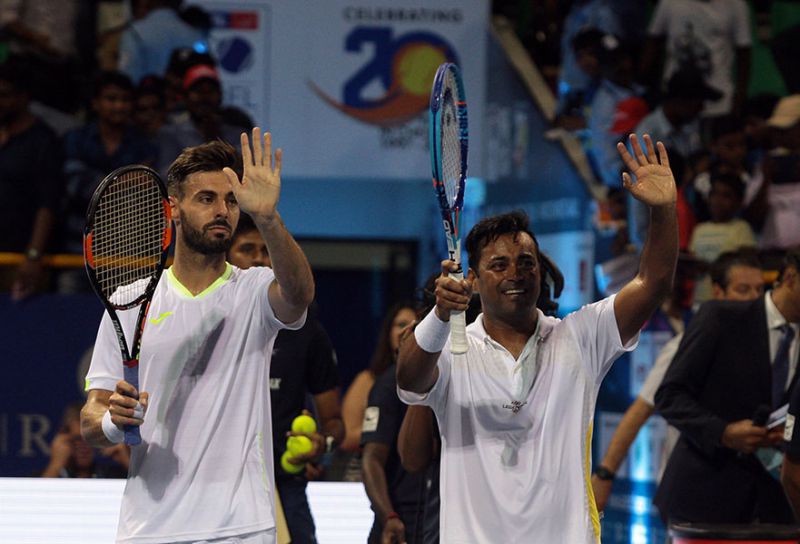 The 20th Aircel Chennai Open was held at the SDAT Stadium at Lake Area in Nungambakkam from January 2 to January 10. Held at Delhi in 1996 and then shifted to Chennai from 1997 after the stadium was built for the occasion of the South Asian Games, the tournament has attracted names such as Boris Becker, Patrick Rafter, Rafael Nadal and Carlos Moya. The big names for this year were Stanislas Wawrinka, Benoit Paire, Roberto Bautista Agut and Guillermo Garcia-Lopez. The only Indian to gain direct entry into the main draw was Yuki Bhambri but he later withdrew from the tournament. The other withdraws were former champion Janko Tipsarevic, Yen Hsun-Lu, Illya Marchenko, Kevin Anderson and Andreas Haider-Maurer.
The qualifying rounds commenced on January 2, Saturday, 2016.There were only 7 Indians in the qualifying draw this year as compared to the 17 last year which was mainly due to the Association of Tennis Professionals (ATP's) decision to reduce the qualifying draw size at ATP 250 events from 32 to 16. The two wildcards in the qualifying event were given to TN's Vijay Sundar Prashanth and multiple-time Asian Games medal winner Sanam Singh.
Somdev Devvarman opened his campaign against Vijay Sundar Prashanth, winning 6-2, 6-3. This match on Court 1 was followed by another pair of Indians – 170th ranked Saketh Myneni and Sanam Singh. The wildcard entrant was dispatched in straight sets. The other Indians in the fray were Prajnesh Gunneswaran, who lost tamely to Jozef Kovalik, local boy Jeevan Nedunchezhiyan going down to Great Britain's James Ward and Sriram Balaji who eased past Hans Podlipnik-Castillo.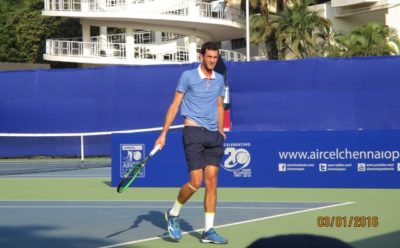 James Ward
Sunday, January 3, started with Devvarman taking on Ward and fighting back from a set down to make the main draw of the event (2-6, 7-5, 6-4). However, there was no such luck for the other two Indians – Sriram Balaji and Saketh Myneni; Thomas Fabbiano of Italy, Jozef Kovalik and Ante Pavic taking up the remaining spaces allotted for qualifiers.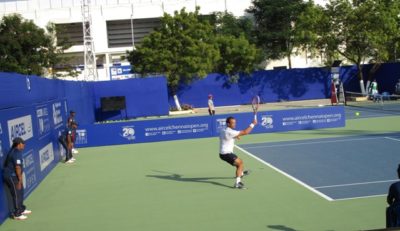 Ante Pavic plays a forehand in his second round qualifiers against Sriram Balaji.
In the background with the green shirt is Ramkumar Ramanathan.
Monday dawned with Spain's Nicolas Almagro taking on qualifier Pavic on Centre Court. Almagro, once ranked as high as World no.9, with a current ranking of 74 almost had the match in the pocket when Pavic turned the tables to stun the man who once beat Rafael Nadal. The final score was 3-6, 7-5, 7-6(1) in a match lasting over two hours. It ended up being an anti-climatic end for the Spaniard.
Meanwhile, a similar match was going on at Court 1. Evgeny Donskoy, a qualifier the previous year was the Almagro in this case and his opponent, John Millman of Australia, the Pavic. Donskoy won the first set in a tiebreaker. Millman won the second 6-4. The third set went again into a tiebreaker, Donskoy having 2 match points at 6-4. But the Russian could not capitalise on the chance and lost the tiebreak 6-8. After this match, doubles specialist Igor Zelenay combined with Lukas Rosol to beat Canadian Adil Shamasdin and Philipp Oswald. On Centre Court, young gun Borna Coric defeated Spain's Marcel Granollers, a semifinalist here in 2014, in a thrilling match. In a late-night duel, seasoned pair Raven Klaasen and Rajeev Ram sneaked past veterans Mahesh Bhupathi and Gilles Muller.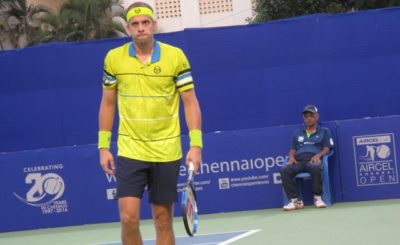 Gilles Muller seems frustrated during his second round loss to Thomas Fabbiano
The second day of the main draw of the Chennai Open is undoubtly the busiest day in the tournament in terms of matches played.It is also the day when many Indian players play.Such was the case this year also and the home crowd were not too disappointed when two of the three Indians won their respective matches.
Ramkumar Ramanathan stunned World no.98 Daniel Gimeno-Traver 6-2, 6-0 and Leander Paes along with Marcel Granollers beat alternates John Millman and Taro Daniel in straight sets who played in place of Stanislas Wawrinka and Guillermo Garcia-Lopez – the spectators were denied a highly anticipated match when Garcia-Lopez had earlier pulled out due to a calf strain which he suffered during the last point of his match against Taro Daniel, which he won in three tight sets.However, Devvarman could not reach the second round, due to an 18-year old Russian named Andrey Rublev. The teen won the first set 6-3. The second set went along the same lines but it was his opponent who clinched it. The third set was evenly placed at 3-all, but it was the Russian who stole the show, reeling off the next three games to ensure a place in the second round. On Court 1, Lukas Rosol eased past Colombia's Santiago Giraldo in a heated match which included the Colombian telling his opponent to "shut up".
A semifinalist from the previous year, Gilles Muller dashed 19-year old Karen Khachanov's hopes for a ticket into the second round. But it was perhaps the last match on this court which had the aura of a quarterfinal or semifinal -last year's runner up Aljaz Bedene up against seventh seed Vasek Pospisil. Though the former won in straight sets, it was never an easy match for him. The second court had the matches of lower-ranked players though the games were nothing short of excitement. Austin Krajicek came back from a set down to defeat an injured Rajeev Ram. Luca Vanni beat Jan Lennard-Struff and Borna Coric along with Aliaxsandr Bury lost to Santiago Gonzalez and Mariusz Fyrstenberg. But there was another Almagro-Pavic-like match in which qualifier Jozef Kovalik looked to be heading home at 6-1, 3-1 until another qualifier named Thomas Fabbiano overcame him to deny him victory in his first ATP Tour level match.
January 6, Wednesday saw quite a few doubles matches on court(4 to be precise). It was a good day in the office for the Indians who managed to scrape through their respective matches on a day when second seed Kevin Anderson pulled out, taking away some sheen from the main draw. As was the custom for many a year,4 players in the Top-25 used to play in the tournament. but Kevin's pullout took that number down to three this year and meant that he was replaced by lucky loser Alexandr Kudryavtsev. Coric, Wawrinka and Roberto Bautista-Agut won their encounters and local boys Ramkumar Ramanathan, Sriram Balaji, Jeevan Nedunchezhiyan and Somdev Devvarman(all on entry through wildcards) did not disappoint. Guillermo Garcia-Lopez also swept past giant-slayer Ante Pavic. Third seeds Oliver Marach and Fabrice Martin won, as well as Benoit Paire and Austin Krajicek.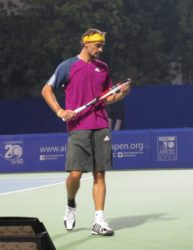 Alexandr Kudryavtsev
Thursday started on expected lines with Benoit Paire beating Czech Lukas Rosol. Thomas Fabbiano then notched up an unexpected win over former US Open quarterfinalist Gilles Muller. Aljaz Bedene beat Luca Vanni and a few doubles matches were also played. But the combine of Leander Paes and Marcel Granollers pulled out because the latter cited an illness. But perhaps, the duel between the racquet-smashing, temperamental Alexandr Kudryavtsev and Ramkumar Ramanathan delighted the crowd the most. The vocal spectators, staying behind Ramkumar at all times helped him as he said afterwards. Ramkumar lost the first set 3-6. But he staged a remarkable comeback to win the second and third sets with the same score-(6-4).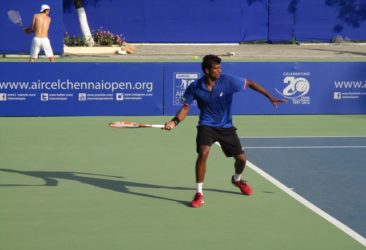 Sriram Balaji returns against Ante Pavic. In the background is Taro Daniel.
Friday commenced with Wawrinka taking on Garcia-Lopez. As expected, Wawrinka earned a semifinal berth – his third consecutive one. Coric upstaged Roberto Bautista-Agut in a three-set match. Paire saw off Fabbiano and Oliver Marach and Fabrice Martin also won their third consecutive three-set match in this year's tournament. However, it was the end of the road for Indians in the singles draw with Ramkumar bowing out due to some spectacular tennis by Aljaz Bedene. The defeat broke the hearts of many fans as he was only the fourth Indian to reach the quarterfinals of the event since its beginning in 1996.There was no respite for Ramkumar even in the doubles as he, along with Sriram Balaji, lost to Somdev Devvarman and Jeevan Nedunchezhiyan.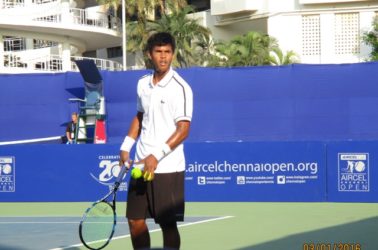 Somdev Devvarman
Wawrinka continued his dominating run by routing the volatile Paire in straight sets. But later, Paire combined with Krajicek to take out the last remaining pair of Indians in the main draw – in both singles and doubles-Devvarman and Nedunchezhiyan. But perhaps, one of the best matches ever to be seen at the Chennai Open was played on Saturday, January 9. In tennis or any sport there can be only one victor. And on that day, in the semifinal match between Aljaz Bedene and Borna Coric, the latter emerged the victor after 2 hours and 56 minutes. Bedene lost the first set in a tiebreaker [7-6(5)]. He won the second set in the same score.In the third set, Coric broke Bedene in the first game and held serve thereafter to send Bedene packing.
It was an unusual match up for the final on January 10 – on one side of the net was a two-time Grand Slam winner,on the other side was a teenager who turned pro just 3 years back. But there was to be no fairy-tale finish for the Croatian as he lost the first set tamely. Though he gave some fight in the second, he was never quite really in the match and handed over the championship to Wawrinka. The pair of Oliver Marach and Fabrice Martin then clinched the doubles crown, defeating the duo of Benoit Paire and Austin Krajicek with the same score as the singles final(6-3, 7-5). It was Marach's 14th overall doubles title, but in contrast, it was a first for Fabrice Martin.
After some suspense, it was announced on the last evening of the tournament that the 2017 edition of Aircel Open will return to Chennai again. That's something for Chennai's tennis fans to look forward to.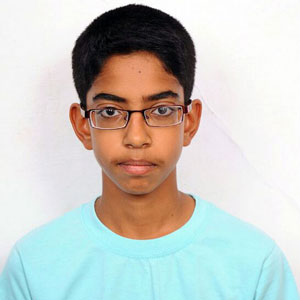 Dhurai, 17, is a senior year student in school. A student report at YOCee since his middle school years, Dhurai's interest lie in photography and sports reporting. He is a keen tennis player and cyclist.
https://yocee.in/chennai-open-treat-citys-tennis-fans/
https://yocee.in/wp-content/uploads/2016/11/acot.jpg
https://yocee.in/wp-content/uploads/2016/11/acot-150x150.jpg
City Roundup
The 20th Aircel Chennai Open was held at the SDAT Stadium at Lake Area in Nungambakkam from January 2 to January 10. Held at Delhi in 1996 and then shifted to Chennai from 1997 after the stadium was built for the occasion of the South Asian Games, the tournament...
Dhurai A Navaneetham
Dhurai
A Navaneetham
dhurai17@yocee.in
Author
Dhurai, 17, is a senior year student in school. A student report at YOCee since his middle school years, Dhurai's interest lie in photography and sports reporting. He is a keen tennis player and cyclist.
YOCee