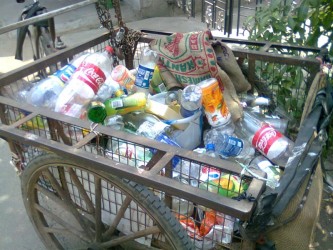 At 7 in the morning, men and women are seen cleaning the roads of Abusali Street, Saligramam and collecting plastics. A glimpse of their effort is seen in the picture. A cartload of water bottles, soft-drink bottles and all of plastic.
Small and big load like this finally land in the old magazine & plastic shops. Look at this shop on Kaveri Street. It sells the old magazines at low prices or sends the plastics for recycling.
A man working in a Coffee day shop refuses to give a carry bag any more. When asked why, he says,"It is a harmful commodity, and we are trying not to use it anymore in our shops."
It was very proud to see people bracing up for saving our environment.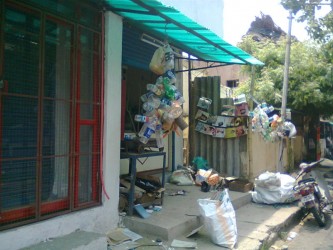 One has to accept the fact that in this era, we can't stop using plastics at once. Plastic being a cheap resource can reach easily to the poor, so it is not an easy task to simply eradicate the issue.
When the world is celebrating Environment day what can we young people do to preserve it in the natural form?