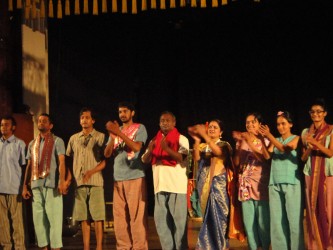 A play titled 'Ms Meena' was presented on June 3, 2011 at 7.30 pm at the Museum Theatre in Egmore.
The theatre group Perch staged the play. Rajiv Krishnan, an acclaimed theatre actor and director had directed the play. The actors are professional and have acted in several plays throughout the country.
It's a story about a lady, Asha who was thrown out of her house, because the one she loved was to get married to his boss's daughter the following week. So she travelled to Madras in search of a new life and she ended becoming a famous movie star in the film industry. She was also given the title 'Ms Meena' by her adoring fans.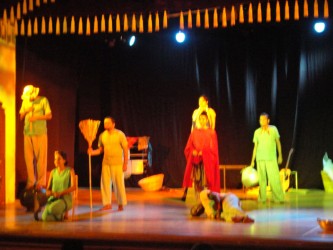 Twenty years later, she travels back to her village to stage her last film which was based on the story of her life. She offers everyone in the village a small role in her movie, but asks for something dreadful in return. She wanted to take revenge on her lover- to see that justice is served- to kill him.
This story is basically a musical, but is also filled with drama and suspense, but not as much as it is filled with comedy.
The lead of this play, Karuna Amarnath, who acted as Ms Meena performed splendidly on that day. She has been acting since 2004 and has done about 10 plays with her group. But, acting is not her profession; she is actually a freelance journalist!
Many businesses use you to do affordable-papers.net research, such as getting leads for your sales page.