Non-governmental organizations usually carry a lot of energy and persistently look for ways to resolve issues faced by society. When 26 of these organizations meet up and the atmosphere is bubbling with anticipation, you get an idea of the conference, Yuva-Collaborate to Conquer. This was held on 21st September morning and started at 9.30 a.m.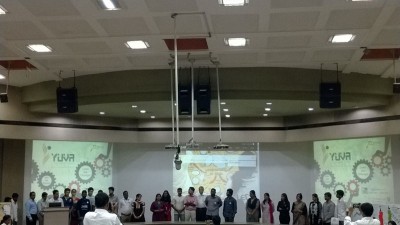 This conference held at the ICSR Auditorium in IIT Madras, a perfect natural setting to inspire change. The Prayag Charitable Trust conducted this conference as they believed that they could help society more efficiently by joining hands and working together. They wanted organizations to act with a bigger picture in mind. They invited the organizations to make presentations and list their activities. There was also a discussion to see how the different NGOs could collaborate and work on common goals. A lot of avenues opened for many of the organizations and they discovered new opportunities and ways in which they could be more effective.
Among the organizations that were present were Green Peace, Rhapsody, Cheer and Bringing Smiles. They had goals that varied from education, environmental awareness, health care to special children welfare and transgender employment. This conference was planned to establish a relationship between the organizations and it has achieved its goal and beyond.
If you feel like doing something for the society and don't know where to start, begin by taking a look at these organizations at http://www.yuvathenetwork.org/network/
Gopika is an Economics graduate on the outside, and a writer on the inside. She used to be a student reporter for YOCee which she says, gave her the kickstart to move on to writing with her university magazine – The Context, an online news website called the Bastion, and become a peer tutor at the University Writing Centre, Her post-lockdown plan currently is to do her two-year fellowship with Teach for India