Cyclone Vardah, which hit Chennai and its neighboring districts on December 12, wreaked havoc everywhere it struck. Tens of thousands of trees were uprooted, roofs were blown away, thousands of electricity poles felled and cables snapped. Window panels of many houses and commercial buildings were smashed by the winds. More than ten thousand people had to be evacuated to safety. To make matters worse, there was a widespread power outage and phone and mobile networks were down.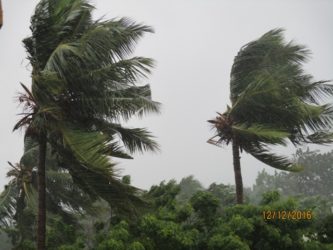 A walk on the roads reveals the trail of destruction caused by the cyclone. Roads were blocked due to fallen trees, poles and damaged transformers. A ration store in Periyar Nagar (Kolathur) where many people buy their daily provisions was closed because a tree fell on the building.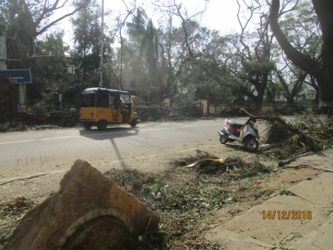 Cyclone Vardah is the first cyclone in 22 years to make a landfall in the Chennai region. Winds reached speeds of up to 140km per hour according to the meteorology department. 17 cm of rain was recorded in Chennai. It was classified as a Category 1 cyclone on the Saffir-Simpson scale.

Weather parameters measured in Periyar Nagar
The author had a chance to measure a few weather parameters in Periyar Nagar during the course of cyclone Vardah. Relative atmospheric pressure dipped to a minimum of 974 hPa (against the normal atmospheric pressure of about 1014 hPa), while the rain gauge measured 16.3 cm of precipitation. The atmospheric pressure plot against time showed a drastic fall in pressure when the eye of the storm crossed the region in the afternoon of December 12. 2016.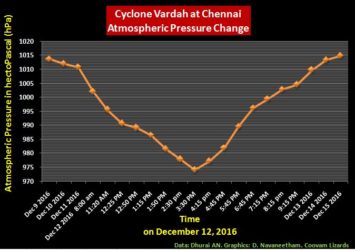 Note for graph: X-axis of date/time not to scale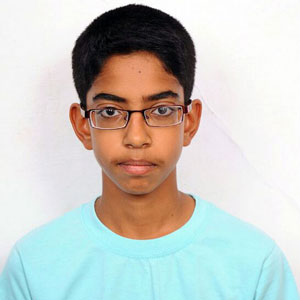 Dhurai, 17, is a senior year student in school. A student report at YOCee since his middle school years, Dhurai's interest lie in photography and sports reporting. He is a keen tennis player and cyclist.