Love reading books and more books?
Here is a library you may want to check. If you are around the T. Nagar area in Chennai you would frequently visit this place.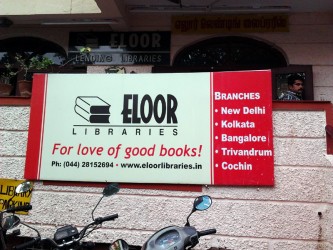 The Eloor Library is quite big. It has many varieties of books like Classics, Fiction, Children's Books, Sports, Cookery, Computer, Management, Philosophy, Non-Fiction, etc…It is a lending library for everyone, not just for kids. There are only English books though. The books are arranged author-wise.
The people working in Eloor Library are friendly and ready to help you find books. They have computerised catalogues and hence it is orderly. A lot of newly published books in the market can be found here.
They charge 10 percent of the cost of the book. They give you 14 days reading time and they charge 1 percent per day as fine if one fails to return on the due date. Hence this encourages good readers while keeps others away. This also ensures the availability of books for circulation.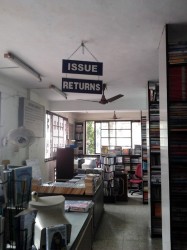 Mr.Luiz John is the founder and Mrs.Mini Luiz is the proprietrix of this library. Mr. John wanted to run a library as there are many books coming up but a very few who could buy the books they wanted. He started the first branch of Eloor Libraries on the marine drive of Ernakulam (Cochin, Kerela) in the year 1979.
He was born and brought up in Cochin and 'Eloor' is his family name. He went on to start branches in Trivandrum (1986), Banglore (1988), Chennai (1994), Kolkata (1998) and New Delhi (2006). His son, Gautam Luiz, presently runs the family-owned buisness.
The library stocks up as much as 78900 book. Of the 9740 registered members, around 3000 are active, say the owners of the library. Eloor has been in Chennai since 1994.
Elloor library is located at  Mandira Apartments, 23, North Boag Road, Pondy Bazaar, T Nagar, Chennai – 600 017. Phone number : 2815 2694.
The Library is open between 10am and 8pm with a lunch break between 1.30pm and 3pm.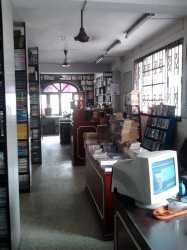 The nearest landmark is The Residency Towers at Pondy Bazaar. Look for the Pazhamudir Nilayam on the Boag Road near this hotel and next to it you will find this building which houses Elloor.