Ms. Shoba Raman, principal of Vidya Mandir Senior Secondary School, Mylapore has won the Best Principal Award for the year 2019 from the Central Board of Secondary Education (CBSE). A teacher who loves creativity in her class, she talks about the importance of making learning fun. Sanjitha S, a Student Reporter of YOCee, spoke to her over the telephone and shares the conversation.
Q: How did you feel when you first received the news that you won the award ma'am?
A: I felt very validated because the selection process runs through four rounds. People used to tell that it is not easy to win that award. But I argued that it is only about hard work and truth. So, when I got the news, I felt as if I was approved as a good enough teacher with a lot of passion. The hard work I did and the truth I said paid off and that made me comfortable.
Q: Could you brief us about the award and also about its significance?
A: This award is given by CBSE to principals, vice-principals, and teachers at various categories like primary teachers, secondary, etc. I really respect this award as all the teachers are not put under the same category. The work of a primary teacher is much more difficult than my work as I teach semi-adults while they have to handle kids. You cannot compare both their works. That's not fair. That's one of the reasons why I wanted to apply for this award.
The second reason is that, it gives visibility to the school. Vidya Mandir has been doing so well for the past so many years but, nobody knew about our school. So, I wanted somebody to look up and say, "Hey this is a lovely school down south and they are doing really well."  This is a really nice award put forth to appreciate the work of the teacher.
Q: Tell us more about yourself, ma'am.
A: I started my teaching career after completing undergraduation. I first worked as an arts and crafts teacher. But art was only my hobby. Chemistry was my passion. So, I decided to do M.Sc, M.phill, B.Ed and M.Ed… After equipping myself with all the degrees I joined as a chemistry teacher in Vidya Mandir. Gradually, I became the vice-principal and then in 2014, I was appointed as the principal.
Q: Did you dream about taking up any other profession when you were studying in school?
A: When I was in school, my mind was full of art. I wanted to see Michelangelo's paintings and to paint like that. I also love travelling. So, I thought that all I should do was travel and draw and just live like that.
Q: Who inspired you to become a teacher?
A: My chemistry master inspired me. Mr. Balasubramiam was my chemistry teacher when I was in class 11 and 12. He was an amazing person. His class was like an adventure to me. I wanted to make my classes as interesting as his.
Q: As a teacher, what other awards have you received?
A: In 2004, I was the winner at the regional level and the runner up at the national level for an award for Teacher Excellence. A year later I applied for Fulbright Scholarship which was a national level award and it was conducted for the first time in India. Four teachers including me were selected and we were given the opportunity to teach in a school in the U.S for six months. That was an amazing experience. It transformed me into a better teacher. I saw how teaching was done there and only after that, fun started to become an important aspect of my teaching. I wanted my students to enjoy my class and remember me as a good teacher who gave them a good time in school.
Q: In what ways do you encourage creativity in class?
A: I always believe that learning with peers is the best way to learn. So, I make sure that there is some sort of fun stuff in each lesson. Some lessons lead to a role play. We also play dumb charades and J.A.M in our chemistry class. For example, in dumb charades, Hund's Rule is given. Then you immediately have to act out the rule or mime it. Who will forget the rule after that!
Q: The classes are now online due to the pandemic. What were the challenges that you faced while launching the classes online?
A: We launched the online classes with TCS digital classrooms. We, teachers, explored and learnt to use that technology in the month of April. We got trained in the TEAMS app for three days. The teachers of each subject department collaborated their work in such a way that in the month of May, the PowerPoint presentations for nine lessons were completed, so we need not worry till the end of September. All the teachers were such good sports and they all put in a lot of effort and I would say that so far, we have done a good job with online classes.
Q: What is the best and worst part of teaching, according to you?
A: The best part is when your students come back after a year or two and say that they had a blast in your class. The worst part is when you are not able to convince the parents that their wards are not into science. The students would be forced to take up science groups and you also are unable to help them. That is really a sad thing.
Q: For this teacher's day, what message would you like to convey to other teachers?
A: I would say, please make your class so interesting that you see the spark in your student's eyes. You shouldn't make them feel bored.  If you think even for a second you are boring them, change tactics. Tell something totally tangent and get back their attention. Make good justice. You are a teacher, and your subject must be your passion.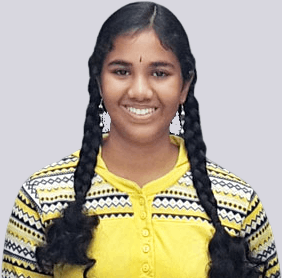 Sanjitha, 16, loves to read novels, write, paint, sing, dance and play the guitar. She is an animal lover and admirer of nature and music.