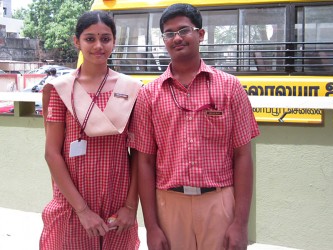 The Investiture ceremony of Sir Sivaswami Kalalaya Senior Secondary School for the year 2013-2014 was held in the morning of June 14, 2013 at R.K.Swamy Auditorium, Mylapore.
Dr. Prema Kasturi, Retd. Professor, WCC Chennai & Secretary, SSK was the chief guest on the occasion. Ms. M.S.Jayasri, Principal in-charge and Ms. Jashoda Sundar, Vice Principal in-charge were also present at the function.
The ceremony began with a prayer and was followed by the Chief Guest's Address.
Dr. Prema Kasturi pointed out the qualities that demarcate a good leader from the rest. She spoke about the different shades of leadership that one can adopt and the respective consequences of each. She concluded her address with a memorable quote by John Quincy Adams, that was to stay in our minds for ever- " If your actions inspire others to dream more, learn more, do more and become more, you are a leader."
Then badges were presented to the Head Girl S. Sivasri, Head Boy L. Srikaanth, House Captains and Assistant Captains of the four houses (Hamsa, Mayur, Chatak, Kapota), Prefects and Class leaders from primary, middle and senior school were also given badges. Following this, the Head Girl and Head Boy delivered their speeches thanking the school for placing trust on them and assured the students of a responsible Student Council.
Later, the newly appointed leaders for this academic year undertook the oath delivered by Ms. M.S.Jayasri.