Reported by Pratiksha Kannan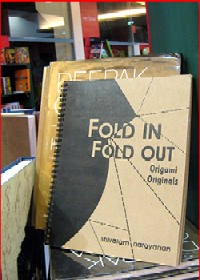 When young Shivram Narayanan folded papers, he created butterflies, cranes and elephants.
He still creates them and did so at the Oxford Bookstore in Nungambakkam, Chennai. He was releasing his book on Origami, a Japanese art of paper folding. Before the release of the book, the children gathered at he show enjoyed watching Shivram making many items in paper.
Shivram's interest in Origami originated on a rainy evening, when he started folding papers to make models, following a basic book on Origami. The art fascinated him so much that he went on to make original models like the Indian God Ganesha, the maharaja and the yuvaraja. He went on to conduct shows in Origami. "In one of my shows, a visitor started chewing up the 'Ori Chips' I had made – Potato chips like Origami chips. I had created them by folding tissue paper." said amused Shivram.
A class 12 student, Shivram who used to live in Chennai, is now studying in Goa. He has a lot of other interests too. He has been a student of 'Vikku' Vinayakram, an internationally acclaimed ghatam player. (Ghatam is a percussion instrument, a clay pot). Shivram also plays the flute and guitar. He entertained the children at the show with a song on Origami composed by him. Then, the children joined along in the chorus "Mountain folds, valley folds …". The basic folding techniques of Origami was introduced to them, through the song.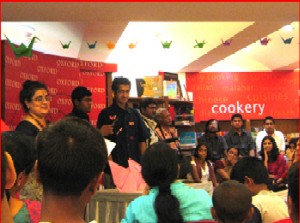 At the show, a few samples of Shivram's paper creations were hung on the walls. The irresistible Ori – chips were also among them.
His book titled 'Fold In Fold Out' is well laid out starting from the basics of origami and proceeding to the author's original creations. The procedure is in simple drawings and words that even a beginner can understand the techniques.
Printed on handmade hard sheets, the book is priced at Rs. 225.
Shivram can be contacted at origamishiv@gmail.com