Dr. Padma Subrahmanyam, well-known Indian classical BharataNatyam dancer launched Indian musical instruments made by S. Gopal – a sculptor and a craftsman on April 1, 2017.
Dr. Padma had organised the display of the musical instruments at her dance school, as part of the series for the Natya students of SASTRA University.
She welcomed everyone who attended the event and presented shawls to Dr. Seshadri and Sri.Gopal in appreciation of their efforts in documenting the instruments.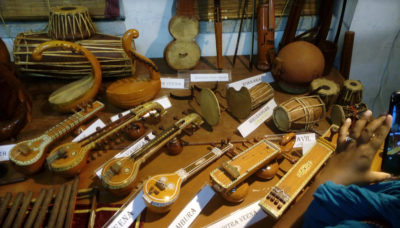 Dr. Seshadri and Ramamoorthy, business partners of Gopal were present on the occasion. Gopal works at the Development Centre of Musical Instruments which is located in Anna Salai, Chennai. This is only one of its kind in Asia. Gopal has been a part of the centre for more than 30 years now. The instruments preserved at this centre go on travelling exhibition all over the country.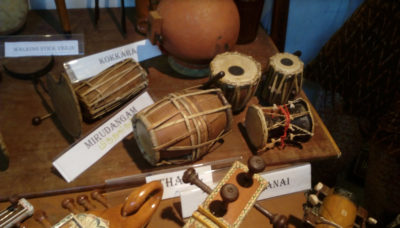 During the event, S. Gopal demonstrated each musical instrument that he had made. Ancient musical instruments and miniatures of modern instruments were entirely handmade using bamboos, wood and metal.
Some instruments like Mudra Veena and Kokkara were ancient; some were medieval-like Nagaswaram (also known as 'Nadhaswaram') in a shape of Naga (Cobra) and 'Yazh' or stringed instrument which replaces Harp; some were modern like 'Walking stick Violin' and the miniatures of Carnatic and Hindustani instruments.
Later Dr.Seshadri felicitated Padma and Gopal for their contribution towards art forms and gave a short and humorous presentation about the 'Yazh Mozhi' and its importance.
Before closing the event, Mr. Ramamoorthy disclosed a surprise news of an award for Gopal and team from the Central Government.
If you want to have a look at these ancient musical instruments, they are on display at the Development Centre of Musical Instruments, 759, Off Anna Salai (Behind Indian Overseas Bank). Contact the centre at 2859 2485 before visiting. Map here – https://goo.gl/maps/haub1n8kmFU2