"What's up Rowdies?" the exciting voice of the Vijay Deverakonda cheered his fans who were waiting for the fortune moment to catch him lively. Vijay Deverakonda who is busy with the promotions of his movie 'Dear Comrade' set to be released in four South Indian languages, is active for the past few weeks with his movie crew. Other than the star lead Vijay, 'Bobby' and Rashmika Mandanna 'Lily', the movie's strong point is the perfect gallop of evergreen and the melodious song "Pularaadha Kaalai" sung by Sid Sriram.
The movie crew has stepped into four major cities Kochi, Bangalore, Chennai and Hyderabad in South India for the music festival. For Chennai fans, it is the much-awaited moment to watch the event live that was held on July 18, 2019. The event provided free entry passes for everyone who came there, which was made known through social media. The crowd gathered for the music fest in Chennai Trade Centre, Nandambakkam was all set an hour before the event to fill up the spaces near the stage and in the hall. The event as per schedule started at 7 in the evening with light music of violin and drums. They unwinded with the movie teaser and canteen song single-take video in the screens.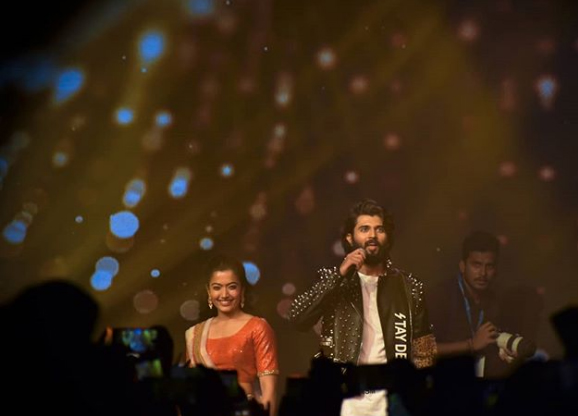 After a big countdown, it was actor Vijay's entry with his bearded look wearing his designer jacket having fonts 'Vada Love' on it. Then Sid Sriram and Rashmika followed him. Vijay and his crew's dance performance lit up the 'Canteen Song'.
The entire hall was intense in a splash of lights with pleasing music and performances done by the artists. Actor Rashmika, in her pink lehenga, made a spirited dance performance for the song 'Gira Gira' and played keyboard for the song 'Aagaasa Veedu'. The event ceased around night 10'o clock and got ready for the next stop in Hyderabad. The movie hit the screens on July 26, 2019.
Followed by Vijay Deverakonda and Rashmika Mandanna as lead pair in 'Geeta Govindam', which had a wide-response, 'Dear Comrade' also hopes to do well.
Pic.credit: Syed Wasim
Harreni R, 17, is a final year student in the higher secondary class. She is interested in nature and the environment. She volunteers at the local zoo.