'Staccato' is a Chennai based band which is just back after performing at the London Olympics 2012.
The band originated as school band and is now in front of all the cameras.
P.D. Balasubramanian, a band member, speaks to Srikamatchi about the band, their efforts, passion …
Why did you name your band as staccato?
It is a musical term where discontinuous notes are played together. It also means a burst of energy. We had our energy within ourselves. So we named it so.
Your band was originally a school band. People usually have a prejudice that students are amateurs. But you all have been able to establish yourselves successfully. What's your secret of success?
We have been together from school. Many bands are not like us. People walk in walk out. But we have been together from the beginning.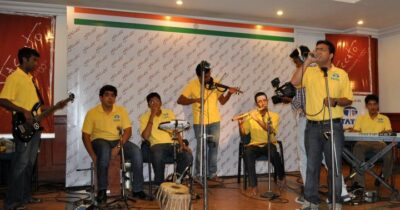 Many people try to popularize themselves through Western music but your compositions are based on Indian ragas and beats. Why is that so?
Basically we are from india. We should use our Indian music. When we were at Rio, people respected us more when they knew that we were from India. We do listen to Western music, but we can't take what others have already given.
How important is it for a band to stick on to their style?
It is not necessary for a band to stick on to their style. Their music should address their audience's expectations, because we perform only for them.
"Passion, dedication, commitment, sincerity and morality"- how essential are these for success?
These are very important. One must have good ethics and should be well disciplined.
What are the popular criticisms that you have received?
To establish ourselves as a band itself was difficult. Where ever we go to perform we are looked differently. We should perform well and prove ourselves.
How have these criticisms shaped you?
We don't consider those as criticisms. We consider all the valid points and start working on those.
What do you think Staccato should be known for?
For our sound, music and style.
Who is your source of inspiration?
Many. Illayaraja, A R Rahman, Sakthi band, Yaanietc.
Who are your target audience?
Everybody. Music should have a global appeal. Even a layman should be able to relate himself to the music.
How did your practice sessions go on for the performance at the Olympics?
We practise a lot. In the meantime we are travelling a lot too.
Do you have any message for our readers?
Have good ethics. Be disciplined.