It is not often that the Olympics arrive. They sport mega storm that take place every four years. At this time, tennis reaches a fever point in India.  A former Olympian himself, Mr. Ramesh Krishnan has achieved a career high rank of 23 in the singles game. He is also well-known for winning Wimbledon Juniors and leading the Davis Cup teams from India to glory. In an interview with Anirudh Madhavan, the ace star shares his views.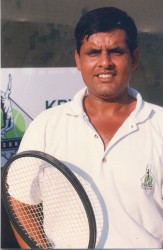 Q:  Who has been your inspiration to play tennis?
A: My grand father, T.K. Ramanathan was my initial coach and got me started. Later on, both my parents were also very supportive of my taking to tennis.
Q: How has your passion for the game stood with you for so long?
A: Tennis is a game for a lifetime. As long as you take it as a sport, you keep enjoying it.
Q: What are the most memorable moments of your career?
A: In Davis Cup, reaching final in 1987 and semi final in 1993. In individual play, reaching quarter final at both Wimbledon and US Open Championships.
Q: How much of an ordeal was it to overcome difficulties you had to face?
A: Ordeal is too strong a word.One faces difficulties in any field and it is important that you keep hanging on. Once you enjoy what you are doing, it is easy to hang on.
Q: How has life been after a great career in tennis?
A: Life has been comfortable. You go through different stages in life. While tennis is still a part of my life,it does not take as much time and effort as years ago.
Q: How do sportsmen deal with the fame, fortune and bad luck that plagues them?
A: Each one deals with it their own way. A good support system of family and friends is very essential. As far as bad luck, you have to learn to take the good with the bad.
Q: How was your experience as an Olympian and what are your views on the current London Olympics?
A: I have been to two Olympics- Barcelona as a tennis player and Sydney as the captain of the tennis team. London is such a cosmopolitan city and it would have been nice to be there. I have not been to London in years. For a tennis player, Olympics is London is particularly special as the tennis event is being played at Wimbledon.
Q: What is your message to today's youth and the upcoming tennis stars?
A: Message may be too strong a word but I think it is very important to be passionate about what you do. Rest will follow.
This interview got me a rare insight into the life of a champion, a tennis player of proportion, an Olympian and above all, a true winner in the Sporting era that has defined the popularity of the game of tennis in India today.