A Silent tree revolution is happening in a simple hamlet. The idea for which germinated in a young 13-year-old, has now grown into a Tree Bank with 98 lakhs sampling planted free and still counting. In times when people organise functions to celebrate donations, here is a man who donates everything, thinking of nothing in return except for better living condition for the mankind.
G. Mullaiavanam was interested and had started planting trees when he was 13 years old. His father and grandfather were agriculturalists and Mullaivanam, as a boy, would collect spare sticks and watch saplings grow out of the ground. His family would practise organic farming and was completely against chemicals.
Later Mullaivanam, started the NGO named 'Tree bank' in 2008. As the government has an eye bank or a blood bank, why not a tree bank? "And as trees give away air for free" he thought "why not give away trees for free?" He collects the saplings/seeds which grow under the trees and grows it in his nursery in the village of Pillaipakkam, near Sriperumburdur , Kanchipuram district. Over there, 10,000 to 15,000 saplings are grown on a monthly rolling stock basis. There are 2 permanent village people who take care of the nursery. Apart from this, volunteers often come and help.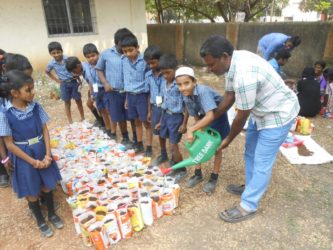 His other way of growing saplings is going to different schools. Over there, he explains the importance of trees. After that, separate bins such as seed bin and cover bin are placed in the school. The children are encouraged to bring waste seeds from their home, like lemon seeds, pomegranate seeds, orange seeds and so on which are normally thrown in dust-bins. They are also asked to bring waste milk polythene cover or a waste oil polythene cover. They are deposited in the respective bins. Once the bins are adequately full, Mr. Mulivanam visits the school and adds soil to the waste polythene cover and sows the seed. The seeds are grown in the packets that are collected. During a child's birthday, a sapling is gifted to them. The plants disintegrate the plastic causing no harm to the plant and also bio-degrades the polythene cover completely as the sapling grows in it.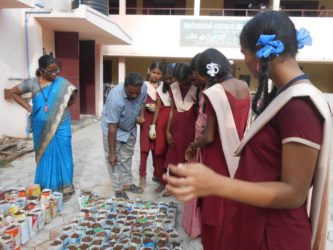 He also organises activities for removing the nails, posters from trees and other objects that harm the tree along with a group of volunteers. He asks the children to collect the seeds fallen from the tree and give them to him so that he may plant them. He wishes to make the neighbourhood a better place and so he gives away saplings for free. He says, "Nature gives us so much water and air through trees. As our life is short, we must protect the Earth and save trees".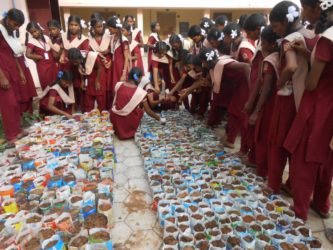 Mr. Mullaivanam has created a garden of jasmine flower ( literal translation of his name from Tamil). A simple man from a simple village has ignited a revolution, It is now up to the students to take it up further and save mother earth.
If you too want to get saplings from Tree Bank, contact Mullaivanam at treebankofindia@gmail.com or send a text to 97898 92080