The annual TCS IT WIZ quiz for school children was held this year at the Music Academy on Aug. 21.
The quiz aims to enhance IT awareness among students, keeping them abreast of the latest developments in the world of Information Technology.
Close to 750 teams participated in the prelims. The quiz master was Giri Balasubramaniam, popularly known as 'Pickbrain'.
The six finalists on stage were the teams from SBOA, Chinmaya Vidyalaya, Vidya Mandir, Maharishi Vidya Mandir, PSBB KK Nagar and Bhavans Rajaji Vidyashram.
The fourth round of the finals had PSBB team leading with 55 points and the team from Vidya Mandir was close behind at 40 points.  In the fifth and last round none of the teams scored any points and PSBB team emerged as winner of the quiz.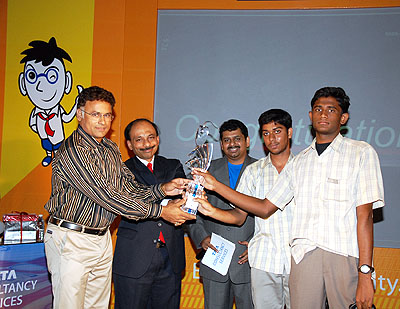 Pic courtesy: http://www.tcsitwiz.com
The team consisted of Swarun Krishna and Sai Krishnan both studying in STD XII. The duo said that the event was fantastic and they would love to part of it again, though they would only be spectators at the event once they pass out this academic year!
The IT WIZ quiz is conducted in August every year. For information on the event and contact details see – http://www.tcsitwiz.com