Everyone around at PSBB could sense a flutter, renewed vigour and camaraderie even in turns of attire as the teachers breezed  in clothes in hues cream and orange It was 'Teachers' Day Celebration'.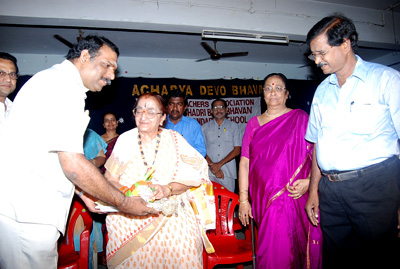 Enthusiastic parents walked into the premises, more than 300 in number, they donned the shoes of teachers while the teachers seated next to the students watched and observed the parents, in a new 'avatar' as their peers.  Erudite parents like Mr. T.R. Subramaniam popularly known as TRS, conducted a Maths Quiz for Class 11 and Mr. V. Ramachandran, a class on Vedic Maths for Class 8.
Many other professionals in myriad fields strode into the classrooms breathing freshness and variety into every lesson plan.  Rapt attention for a session on meditation in Std. 12 left the teachers wondering if professionalism in dealing with any topic warrants a student's individual attention.  This experience was not just novel but also served as an eye-opener for everyone present.
After a session of 'edutainment', it was time for pure 'entertainment'.  The PTA of  PSBB, KK Nagar honoured every teacher with a token of their appreciation for the selfless service rendered by them.
Stalwarts in the fields – Mr. P.Vijay, a writer, lyricist par excellence recited the poem he has composed, extolling the virtues of a teacher.  A few lines were rib-tickling, a few others moved all to tears.  It was a dance trio by husband, wife and a child, the Prashanths, Sunanda, the play back singer and a most hilarious PowerPoint presentation that had the teachers sauntering back home with smiles dancing on every lip.
The memories of this day shall remain etched in the hearts of those who care, 'Teachers Divine', for posterity.