The toppers in the 12th board exams of PSBB Schools received their priceless awards and prizes on July 12, 2013. The students passing out of the school got to interact with the dean of the institute,  Dr. Mrs YG Parthasarathy.
The prize distribution ceremony began at 2 pm and went on till 4.30 in the afternoon. Mr. Vaidya Subramanian, dean of the Shastra University graced the occasion.The current year twelfth grade students were the audience.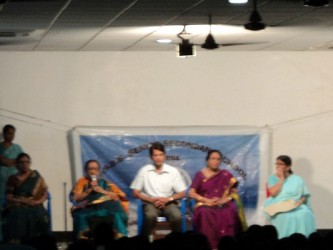 The function began with an invocation to the almighty. The heads of the institute gave a brief speech and congratulated the achievers before the prizes were distributed..
Students were awarded prizes under various categories like First in Chemistry, First in Physics, First in English,etc. The students were also given huge cash awards as Memorial Awards which were instituted by eminent personalities in various fields in remembrance of their dear ones who excelled in that particular subject. Prizes were also given to students who excelled in extra-curricular activities like debating, dramatics and sports.
The students in their twelfth graders this year found this event inspirational and felt encouraged to perform well and do their school proud. The function concluded with the chief guest ,Mr. Vaidya Subramaniam, who is an alumnus of the schoolsharing memories of his school days and also wished the school and its students the very best in their endeavors.
A few tips from the toppers to students appearing for their boards this year:
– Religiously practise daily studies,They will only fetch u marks and not last minute preparation
– Always try to strengthen your concepts than blindly memorizing facts
– Never ever get tensed in the examination hall
– Since it is the last year you are going to be in school,Enjoy yourself as it is the end of childhood,carefree days.