On the evening of June 23, 2012, the Anna Centenary library in Chennai wore a grand look. It was the day when the corporates took to their heels to rock the stage displaying their talents.
The event, an initiative of Carrot-Excel (two event management companies) titled RED (Re Discover) was a fund raiser for the education of underprivileged children and for a carbon free greener world. It was an intercorporate culturals for a cause.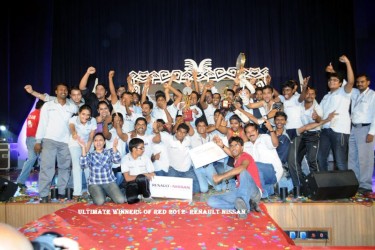 The evening had many events like dance, music band, fashion designing, ad-zap etc. The panel of judges who witnessed the spectacular events included playback singers and music composers like Unni Krishnan, Ramesh Vinayakam and Thaianban; dance choreographer Jeffrey Vardon and actress Varalakshmi Sarathkumar to evaluate the dance performances and well-known fashion designers like Sydney Sladen, and Vivek and actress Sona Hayden to judge the fashion show.
About 30 corporates participated enthusiastically. HCL, Accenture, TCS, Cognizant, FSS and Renault Nissan qualified for the grand finale. HCL and Cognizant bagged awards for music, RBS and TCS for dance, and Renault Nissan and Rage for fashion show.
There were a distinct variety of themes chosen for each of the events; some of the themes were: "Man vs Robots"(dance), "Save the Girl child"(dance), Carnatic, fusion and western in music and Bio degradable dresses and the " United Nissan" for fashion designing. After all shows, there stood the team which took home the RED-2012 trophy – Renault Nissan.
Every corporate employee participated in the events gave their best. A day with all swings and swirls, ragas and notes, poses and styles – a dream moment for many corporates ended as the curtains fell with a Shabba Khair from the RED team.