All of us in today's world know a fair bit of what recycling is all about. But what truly makes a difference to the world? The pollution caused not by us, but by numerous industries is in fact playing a large role in corrupting the environment.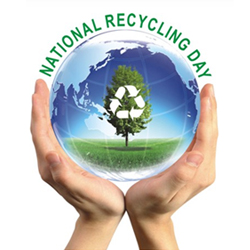 Contrary to this, ITC, one of the largest industrial companies in India, has initiated a programme called WOW or Wealth Out of Waste. The programme has a unique way of conducting recycling programme, and it is one of the most supported programmes in India.
Held in cities like Cochin and Erode in the past, the event has touched the lives of over 500,000 children. It issues paper bags to the students to collect paper waste, and in turn the weight of the paper waste is measured and the same corresponding number of stationery materials are issued for students as a reward.
This year, the event was held in the city of Chennai, in the St. George's High School. It was conducted on July 1, 2012 to celebrate National Recycling Day. A variety of entertainment programmes were put up as over 10,000 school children echoed,"WOW!"  The students were given bags with a variety of goodies from the numerous sponsors of the event.
Under the programme, the company plans to bring around 200 schools within its fold. The students will in the recyclables and they will be repaid in cash or with stationary from ITC for their efforts to reduce, reuse and recycle.
Mr. D. Jayakumar, speaker of the Tamil Nadu Legislative Assembly, was the chief guest of the occasion. The event which paid host to countless guests was not just to serve as a medium for people to come and enjoy some entertainment, but to be educated on making Chennai clean and green. Along with the goodies, came a piece of paper that held a pledge binding students to their promises of making a cleaner, greener tomorrow and yet at the same time, recycling, reusing and striving to contribute to a sustainable economy.