Namma Arcot Road organised  Green Awareness Day on June 25, 2011 at the L.V.Prasad Film and TV Academy. The event focussed on simple ways to make homes and offices greener, healthier and to protect our earth.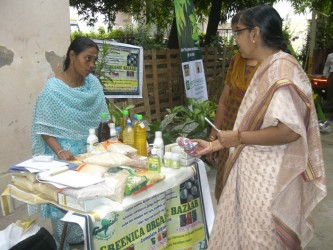 The event started with the screening of the critically acclaimed documentary Mahua Memoirs. The film portrays the struggle of indigenous people against powerful people who destroy their natural habitat and way of life for centuries by granting mining leases. The documentary highlighted the plight of the tribal communities in the region of Chhattisgarh and Jharkhand due to the flourishing mining industry.
The 'Eco Bazaar' offered a variety of plants and eco-friendly products for sale. Harith Tharang, a garden shop had on display plants that needed less maintenance and some that could even adapt to air-conditioned atmosphere. The Tree Bank of India distributed free saplings to visitors to plant at their homes and workplaces.
Jungle Jewels was an interesting display. As the name suggests, on display were a colourful assortment of jewellery made out of seeds and nature products. The youngsters at the event were really interested in this display. The Amway stall exhibited a plethora of organic cleaning agents.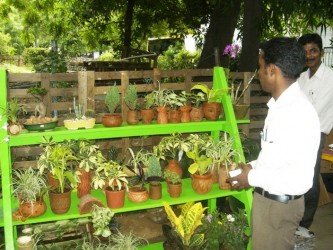 Pon Ravichandran, who runs Green Tree Homes and Ventures, sponsored 50 t-shirts, which were put on sale at the campaign, the proceeds of which were used to garner funds for other Namma Arcot Road projects.
Shobha Menon, managing trustee of Nizhal gave a short talk on planting the right kind of trees and stressed on the importance of caring for trees.
A.M Malathi's Powerpoint Presentation and lecture laid emphasis on organic agriculture, terrace-farming and waste management. Citing her own experience she explained how, with a little bit of effort, we could grow our own kitchen garden. The highlight of her presentation was preparing compost using 'Kambha'- a garbage disposal pot. Reducing, Reusing and Recycling waste was the central theme of the lecture.
For everyone who was a part of this event it was a special day spent in making their lives greener.
Photo credit: http://nammaarcot.wordpress.com