S. Muthiah, is a journalist and historian of Chennai city. His regular column Madras Miscelleny in The Hindu is popular among the Chennai readers. He has written many books on the history and culture of Chennai, and is the founder-member of the Madras Book Club. The author of  Madras Rediscovered, Muthiah leads a group of enthusiasts who motivates the residents of Chennai to celebrate their city as Madras Day. His contribution to cartography (art of drawing maps) is significant.
When he mentioned his residential address itself, he told it the way a historian would do, by mentioning the right landmarks for easy navigation. When I reached his residence, I noticed his shack filled with books and labelled historical files on his table. In a conversation with Adrian Joseph David, student reporter of YOCee,  S. Muthiah spoke in a brisk manner and frankly expressed his opinion and thoughts.
Nowadays, most people are unaware of their local history (such as how old is their area or why was it named so). Is this mainly due to the lack to eagerness to learn and urban modernisation? What is your opinion on this issue?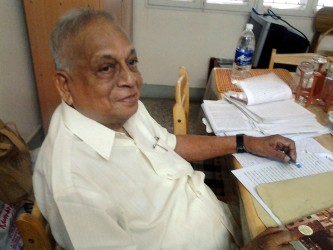 People don't know their history well, mainly because schools are not paying attention to history today. Schools must teach local history. Instead of a single subject called 'Social Studies', it must be split into History, Geography and Civics. If schools can't do much about changing the syllabus and pattern, they can start heritage clubs and promote cultural heritage.
What do you want to inculcate in the readers through your publication, Madras Musings?
People in Chennai dream about their future but are unaware of their glorious past. My aim is to educate them about the city through this newspaper.
You are of the Most Excellent Order of the British Empire (One of the most prestigious title in the UK). Please tell us about the occasion you had received the title.
The title was given to me by the Queen of England through Michael Herrige, the British Deputy Commissioner to India, for my work in heritage and environmental issues.
Who inspired or mentored you in your career?
When I was studying in St. Thomas Preparatory School at the age of 8, WT Keble, a British schoolmaster, inspired me to write.
Tell us more about your editorial experience in various newspapers.
I wrote a column in the Times of Ceylon which consisted of all types of sports for 13 years every Sunday. I was the Ceylon correspondent for three British newspapers. In The Hindu, I write about people, places and history of Madras. I also did film and book reviews.
You are one of the people behind the Madras Week. Why is Madras Week celebrated and when is it?
The founding day of Madras is on August 22, 1639. It was on that day, in that year, that a sliver of land, where Fort. St. George stands today, was transacted by the East India Company. The deal was struck by Francis Day, his 'dubash' Beri Thimmappa, and their superior, Andrew Cogan, with the local Nayak rulers. It is believed that this deal was made on this day. So, Madras Day is celebrated on August 22.
Your father, NM Subbiah was a politician in the Ceylon Indian Congress and also had served as the Mayor of Colombo. How did he influence your career?
I left home at a young age of 14 so I couldn't spend much time with him. But when we both grew old, we talked a lot. I came to know about the history of the Chettiar community from which I come and also discussed at looking at different things with a new perspective.
You were born in India, studied in the US and worked at Sri Lanka. Which place do you miss the most?
I miss Ceylon most as I worked there. I was 40 years old when I came back to India. Friends are made when one is young. I made a lot of friends in Ceylon but when I came back to India, I had to leave them.
If you were not a historian, what else would you like to be?
Actually I don't call myself a historian, I am basically a chronicler who gathers information and files them. I always liked being a journalist as I used to enjoy going out a lot.
You are the founder of the Madras Book Club. Don't you feel that the golden habit of reading has gone down due to technological advancement especially among the youth?
The reading habit among the younger generation has gone down to some extent. But books will rule forever. India's 60% of population consists of the young. The right kind of books must be chosen to interest the youths.
What are your upcoming literary works?
I am currently working on a book based on Anglo-Indians which will be out next year.
What is your message to the youth of today?
Read more books.     Learn more about your city and country. Pay all importance to work and studies than sports. Aim to be an all rounder, not a specialist.
Rapid Fire:
Favourite actors: Sydney Poitier, Denzil Washington, Julia Robert
Favourite movie: Beau Geste (I had watched it 7-8 times)
Favourite pastime: Reading, watching sports and films