"To make your nightmare an accomplishment, motivate yourself and don't lose self-confidence amid your problems so that other people will encourage themselves by taking you as an example, and come out of their hurdle," says Sheikh Abdul Khadar, a physically challenged athlete.
The desire for sports and its beginning
Sheikh is from Tirunelveli who has migrated to Chennai with his family at a young age. He finished his school studies in Dhanish Matriculation Higher Secondary School in Chennai. Now, a Post- Graduate student from Loyola College, Sheikh is fond of sports. "During my 8th standard, my interest in playing sports blossomed, especially running, football and cricket. Little did I know about these sports, but then, I decided to stick on to athletics in my 9th standard", he says. When asked about the reason behind choosing athletics, he firmly says, "Athletics is an individual sport. When I win in athletics competition, I see the result as my own effort and hard work. That is the reason why I chose athletics."
About his coach Gunasekar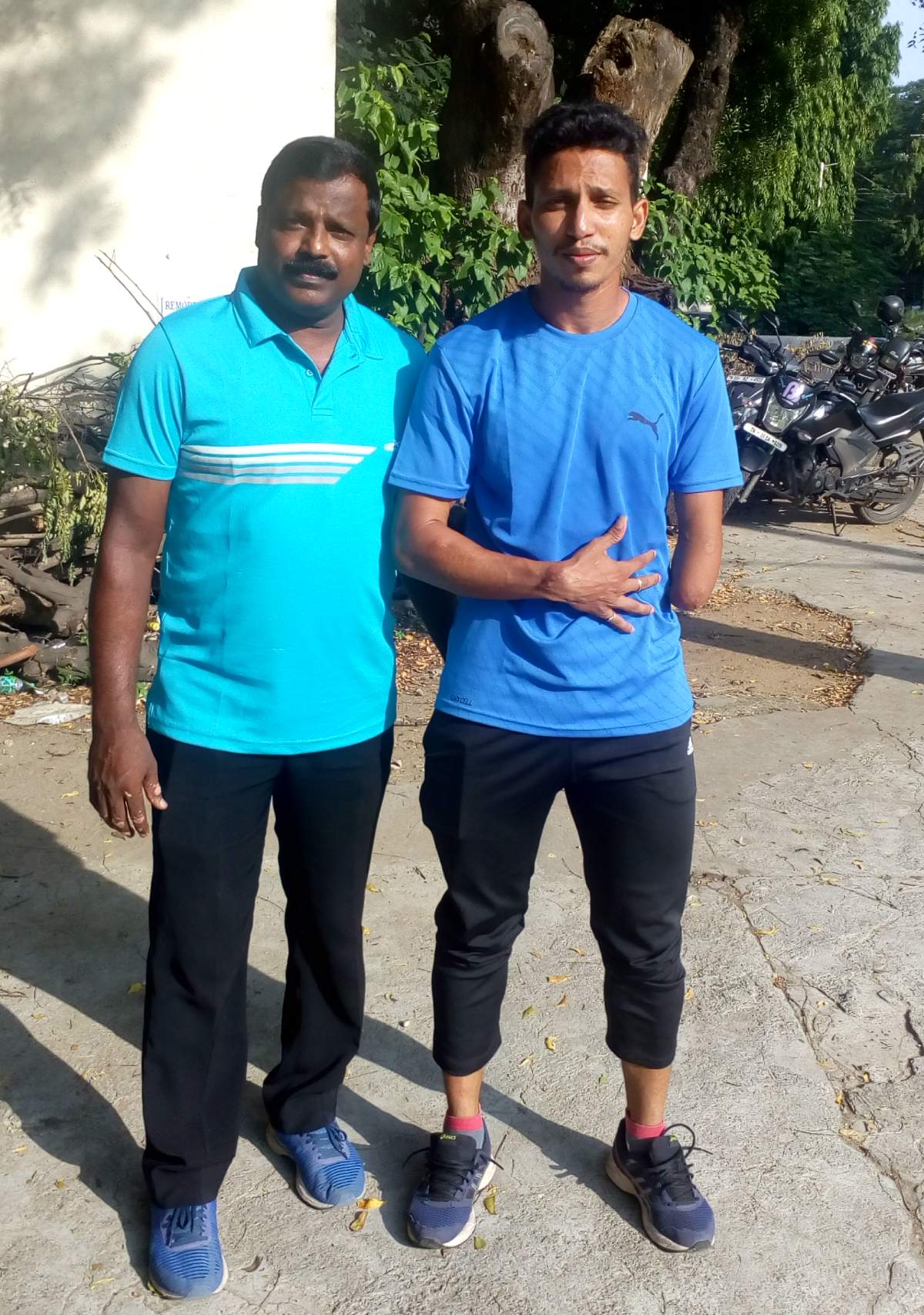 Though Sheikh was interested in football and cricket the most, Sheikh's brother wanted him to move on with athletics and enquired his friends for a good coach for athletics. As his friends were National level medalists, they knew of a good coach, Mr. Gunasekar, who teaches from the basics. Sheikh's brother enrolled him in the Run Bird Athletic Club, where Mr. Gunasekar trained his students. From his 10th standard, he started athletics training. "I was learning basics for two years and later started my training for competitions. My coach teaches everything step-by-step from scratch & corrects every mistake even if it is small, on the field. He gives strict instructions with patience even when I repeat the same mistake. I have been practising athletics from him for the past nine years now and continue to learn from him," he says.
Laurels
Sheikh's first achievement was when he was studying in 10th standard. He snatched the state-level gold medal in the 400m athletic race. "I was recognised by everyone only after winning my first medal. I had support only from friends and my coach. My school didn't know that I was going out to competitions. As there was little support from my school, we (coach and myself) did everything on our own. I represented other schools instead of representing mine. After my success, my school understood what I was doing. Only after 11th standard, I got a helping hand from my school and at a later stage, I received huge support from my college," he grins. He has represented many district, state, and national level competitions. He says with pride that he has won many national-level games than that of state level.
An incident that failed to deviate Sheikh from his goal
While everything was going smooth, a tragedy happened in which Sheikh lost half of his left hand. When he was in the hospital, his first reached out to his coach. Mr. Gunasekar motivated Sheik to move on with his aim. He advised him to ignore any negative comment that would demotivate him. After getting out of bed, his relative sister, a physiotherapist, started supporting him. Though his family requested not to strain himself, Sheikh continues to practice athletics. He is still competing in many national-level competitions.
"I don't think, I am experienced enough. I am still a pupil. Of course, I do correct students who are younger than me and learn from them too. Because, we learn things not only for our benefit, also to pass it to the descendants", he states. With so much enthusiasm, he says, he has dedicated his life entirely to sports. While conversing, Sheikh reveals that his role- model is Yohan Blake, Jamaican sprinter, who has represented the Olympics 2020. Sheikh's next plan was to participate in the Paralympics. Though he had the qualifications, that wasn't possible for him as he didn't know the regulations well ahead of time as a first-timer. His concern was to reduce the complexity in the procedures and give a proper identification for any national-level athlete. He opines that the government needs to relax at least a few procedures.
Sheikh's message to the successors
"Anyone can become an athlete if he or she has the determination. They should not diverge from their aim and shouldn't lose self-confidence. Patience is the basic building block of your ambition. Everyone can't become a famous personality within a few days. Of course, it takes time. We should use the time properly. For example, Neeraj Chopra has won the gold only because of his hard work. A few things you need for your practice are your own time, strength, and self-motivation. My strong opinion is, take sports as a career, because this field also has various branches in it similar to IT or Engineering," Sheikh urges young people who have a desire to work hard in the sports field.
Coach Gunasekar's speaks about Sheikh
"Sheikh is a very disciplined student. I am happy and proud to have him as my student. He is one, who practises with involvement. I use him as an example to teach the younger children. Sheikh had to participate in the Paralympics 2020, but unfortunately, we couldn't fulfil the formalities. Right at this moment, if he is asked to run, I am sure that he will win a medal. There are some upcoming events, so we are trying to make him participate in them too. He will definitely grab a medal within the first three places and add a piece of pearl to India's crown."
---