Sishya Model United Nations, a MUN conference organized by the Sishya school, Adayar, is one of the biggest MUNs in Chennai. This time the 8th part of the saga was held at this school premises on the Oct 5, 6 and 7, 2014.
SishMUN had the usual committees that include General Assembly (ECOFIN, SOCHUM & DISEC) ,Disarmament and International Security (DISEC), Economical and Financial Committeec(ECOFINSocial, Cultural and Humanitarian (SOCHUM),  Human Rights Commission (HRC),  United Nations Environment Programme (UNEP) , Economic and Social Council (ECOSOC),  United Nations Security Council (UNSC),  International Court of Justice  (ICJ) and the Group of 20 ( G-20).
In addition to these, there were World Press and World Media. The agendas were grand and comprehensive. The organising committee did a commendable job and so did the World Press, World media and especially, the admin staff, who helped in the chit-passing and hospitality.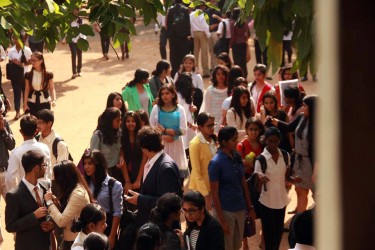 The inaugural ceremony was held on the second day and the chief officer of the Japanese Consulate in Chennai was the chief guest. Performances by the students of Sishya school included choir, different styles of dance were brilliant.
The session for the third day got over early at 11 30 a.m. as the city witnessed protests after the denial of bail to former chief minister J. Jayalalithaa is a court case. The award giving ceremony followed. Most of the awards were won by the delegates of USA, Cameroon, etc. Chettinad Vidyashram was awarded the best school in SishMUN from Chennai , and DPS Sharjah, the best out-station school.