Have you ever gone to a mapping workshop ? There are some very lucky children from 8th standard of Olcott Memorial High School who have got this opportunity.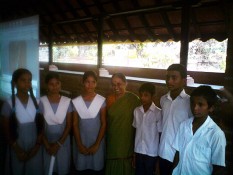 Transparent Chennai, an initiative that focuses on mapping and bringing civic issues to the notice of the Government, organised the workshop. Siddharth Hande, Research Consultant at Transparent Chennai and  Shoba Narayana, English teacher at the Olcott School co-ordinated it.
On April 23, 2011, the children who attended the workshop made a presentation of what they learnt and did at the workshop The Spaces on Elliots Beach Road.
Six students – Ruby, Nithyakalyani, Gopinath, Desappan, Navinthani and Gopi – presented four different maps made by the four groups formed during the workshop.
They were all maps of their school. They had also done geotagging of Schmidt Memorial, Elliots Beach, Urur Kuppam Police Station, Broken Bridge, Boat Harbour, Skating Area  among others.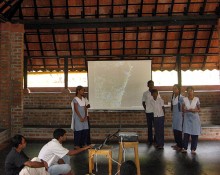 The students had collected information about each of those places, on their own to explain to us in their speech.
"We learnt the uses of maps and who uses them. We did not even know how to use a map earlier, but now we know about keys and have also drawn a map of our school by ourselves," said one of the students.
It took them four Saturdays of working at their school to complete their maps on a chart paper.
Siddharth said,"The main aim of this program was to make children understand mapping, geotagging and to know from from how they looked at it."
Archana, an active volunteer in the project helped Siddharth. She said she enjoys working with kids.
The chief guest, Ambika Buch, a former teacher at Kalakshetra appreciated the efforts of all the six children and distributed gifts to them.
Transparent Chennai was launched in October 2010 and creates maps, data, and research on civic issues to empower citizens and increase Government accountability.
Residents of Chennai who are interested in civic issues are encouraged to log on to www.transparentchennai.com and join the movement to create information for change. Siddharth Hande can be reached at 98402 95081.